Conclusion:
The
Noctua
NH-U12S and NH-U14S heatpipe tower coolers are clearly very similar and both are capable of providing excellent cooling performance and minimal noise. While the larger NH-U14S outperformed the NH-U12S, the margin of victory was slight and I would have liked to have seen more of a difference in performance in order to make choosing between the two coolers more interesting. Throwing more heat/power at the two coolers to dissipate may have helped distinguish the two in terms of cooling performance, but I am confident that they would both do just fine no matter what.
As always, the product was well packaged and Noctua provided an exceptional bundle of accessories and hardware in order to make the installation a breeze on a wide variety of systems.


While Noctua claims broad system compatibility, I found that trying to put one of these big coolers in a smaller system can lead to issues other than height restrictions. The cooler definitely fit, which is great, but you have to work around features like the system memory and the PCI Express slot.
A trip over to Amazon.com reveals that the
NH-U12S sells for about $66 (US)
, while the
NH-U14S sells for about $74 (US)
. These are definitely premium prices, and in the case of the HTPC I wanted to use them on, they actually cost more than the CPU. The bottom line is that these coolers have made this HTPC the quietest it has ever been, and since it is installed in my bedroom - where my wife happens to spend even more time than me - that is definitely a good thing. The wife acceptance factor has never been so important, and if she can forget that there is a computer running 24/7 over in the corner, I would say paying a bit extra is a worthy investment.
In the end, the Noctua NH-U12S and NH-U14S heatpipe tower coolers both earn the Bigbruin.com "Recommended" and "Whisper Quiet" awards.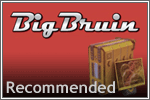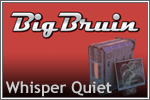 Pros:
» Impressive performance
» Easy installation
» Exceptionally quiet
» Great bundle of accessories and mounting hardware
Cons:
» Pricey
» Will obviously work on small form factor systems, but perhaps with some caveats
Please drop by the Bigbruin.com Forum and feel free to post any
comments or questions
.