Testing:
To test the performance of the two
Noctua
tower coolers it was compared head-to-head with three other coolers installed on the Intel G620 (with the case open, but the two installed case fans enabled). The stock Intel cooler, a
Noctua NH-L9i
low profile cooler, and an
NZXT Havik 140
tower cooler will provide the competition for the Noctua NH-U12S and NH-U14S. In addition to letting the two new CPU coolers run at full speed during testing, they were also tested with the LNA adapters installed, which drops the speed and noise down even farther, but will increase temperatures as a result.


Idle testing consisted of letting the system sit at the Windows 7 desktop with no other applications running for a period of 30 minutes. Load testing consisted of running 3DMark Vantage back-to-back three times. HWMonitor 1.19 was used to monitor idle and load temperatures, and the room was maintained at a consistent 22 degrees Celsius.
The chart below details that the tower coolers (including the NZXT model) are easily capable of keeping things cool when there is no load, and that even the two smaller coolers won't fail you if you don't stress your CPU.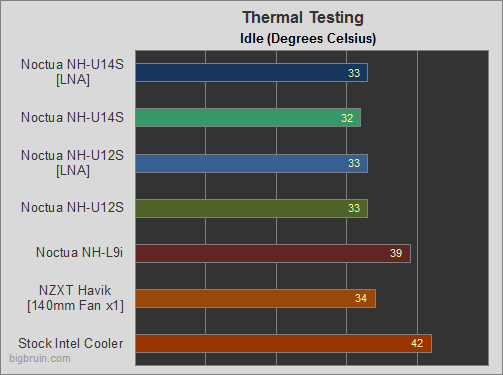 Crank up the heat and things get interesting. The first point is to congratulate the NH-U14S as the top performer when allowed to run at its full speed. Adding the LNA adapter doesn't impact the coolimg performance that much, and to be honest I could only tell the difference in sound output while the case sides were still off. That said, the cluster of results are so close that system performance should not suffer with any of the aftermarket coolers. I was impressed to see the little NH-L9i hanging in there, but in the face of these much larger competitors, I can now appreciate the difference in noise output between a 120mm, 150mm, and a 92mm fan. I previously felt like the NH-L9i was very quiet, but I now have a new understanding of just how quiet things can be.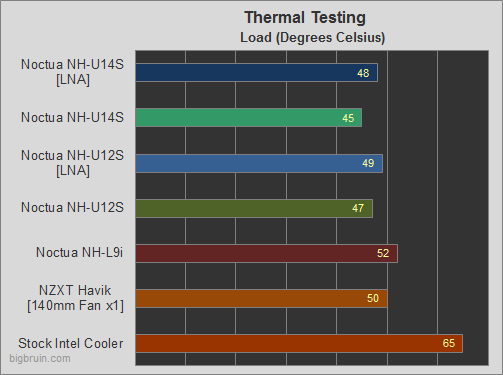 Testing would have obviously been more dynamic on a processor with a higher TDP, but the 65W G620 is actually the highest I have, plus I wanted to test these in a Mini-ITX system for kicks. My higher end processor actually has a lower TDP, so the G620 was the best bet.