NH-U12S:
The Basics (continued):
The next two images show the base of the cooler, as well as the interface between the heatpipes and the base. The surface that will mate with your processor is extremely smooth and flat, and features a fairly matte finish. I recall when high polished mirror finishes were all the rage, but this setup seems best for creating good heat transfer when accompanied by a thin film of high quality thermal paste. The heatpipes are all secured in form fitting channels just millimeters from the mounting surface, and the proximity and tight tolerances should help get the heat flowing into the heapipes and up away from your processor.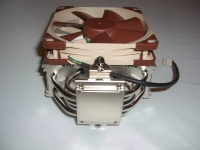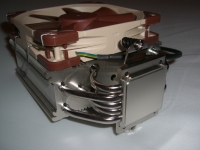 Installation:
The NH-U12S was installed in an HTPC that uses a Biostar H61 based Mini-ITX motherboard running an Intel G620 processor. This HTPC is housed in a bedroom, so low noise operation is essential, and I am constantly looking to improve things. The system is housed in Bitfenix Prodigy mini-ITX, which is really rather large when it comes to the small form factor scene, but the size is one compromise I have made in the name of silence.
There we some considerations to be addressed during the installation process. As shown in the images below, the cooler was mounted at 90 degres from the orientation I had intended to use. It would have been best to have the case intake fan, CPU cooler fan, and case exhaust fan to all be blowing in the same direction, but the CPU cooler would not fit that way while also allowing a discrete graphics card. The cooler had to be turned, and the fan had to be placed on the side of the cooler away from the PCI Express memory slot in order to make it fit.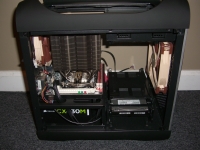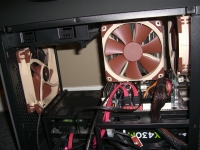 The below left image shows that in this orientation the cooler does over hang the memory slots, but since these are standard height memory modules that there is no interference. Taller modules would most definitely not fit in this arrangement. The below right image shows a view from above for a slightly different persepective.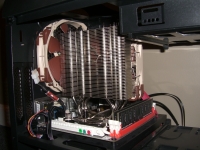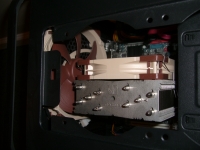 The NH-12US is touted for its excellent overll system compatibility and 100% RAM compability, but there are obviously some exceptions. Full sized systems are much easier to work with and to assume compatibility, and I was glad to see I could make it work on a small form factor system (even though it is a 'big' small form factor system to me).