NH-U12S:
Packaging and Accessories:
The NH-U12S is sold in a box that should look familiar to anyone who has ever owned a Noctua product. The maroon and whilte box includes a good deal of text and sketches to describe the product inside, but no actual photos.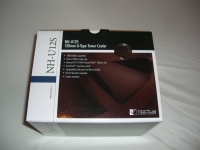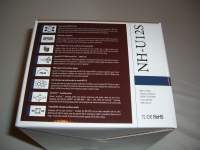 Inside the box we find smaller boxes that are well labeled to detail the accessories to be found in each. Underneath the three accessory boxes we find the fan (already installed on the cooler) peeking out through some cardboard designed to protect the NH-U12S during shipment.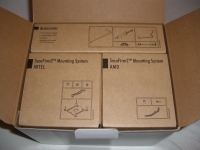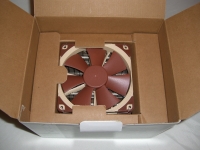 I was to eager to get going to properly document all of the accessories. Noctua does a great job making sure you have everything you need, and in this case that includes far more than just mounting hardware for all modern AMD and Intel processors. For example, you get a syringe of their high performance NT-H1 thermal compound, a L.N.A. (low noise adapter) cable to cut the fan speed / noise even more, and spring clips and antivibration pads for mounting a second fan (which you would have to provide yourself).
The Basics:
Straight out of the box the NH-U12S looks much like other heatpipe tower coolers we have seen from Noctua. The pre-installed NF-F12 PWM 120mm fan is just about an exact fit to the tight array of fins on the cooler (which actually measures 125mm across). The installation looks sharp since the mounting clips on either side are hardly noticeable as they grab the corners of the fan by the extremely helpful anti-vibration pads.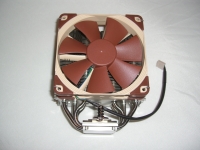 A better look at one of the mounting clips is provided in the below left image where we can see it grabs two holes on the fan, and then is secured in to a groove in the array of fins. This view also shows how compact the cooler is, at just about 158mm high and just about 71mm thick (with the fan installed). The below right image shows the top of the cooler where the five u-shaped heatpipes poke through the upper fin before being terminated in shiny little cone shaped spikes.