Conclusion:
The
Noctua
NH-D15 heatpipe tower CPU cooler is a beast that is ready to tame the heat from any of today's high powered processors. With six heatpipes, two towers of cooling fins, and the ability to support a pair of 140mm fans, undersized is not a word that could describe the NH-D15. In testing, it was able to outperform other high quality heatpipe coolers, including two from Noctua which are also highly respected for their performance. With two fans installed the cooler was able to operate with minimal noise, and with just one fan installed it was nearly silent and still cooled better than any other unit on hand.


Noctua always puts together an excellent selection of accessories and other components to make sure their coolers fit any modern AMD/Intel CPU socket, and the bundle included with the NH-D15 is no exception. You not only get mounting hardware, but the screwdriver necessary to install it. Additionally you gte some premium thermal paste, noise reducing cables and cable adapters, and since it is a cooler capable of supporting two fans, they include the second fan. All of this probably adds a decent percentage to the final price, but you shouldn't be left stuck looking for anything extra to complete the installation.
The size of the NH-D15 will make it difficult to consider this cooler for use in many smaller systems. As we found, even an average sized mATX case was too small to allow for the use of the NH-D15, as well as all of the other components typically installed. While the design of the cooler helps to avoid system memory installed close to the CPU, we found there could still be interference with the first expansion slot, case exhaust fan, the PSU, and the case side panel. This is not really a "con", but it is something to keep in mind while shopping for a cooler!
The main "con" I have is that while the cooler might be worth every penny, it is still hard for me to think there is a big market for an air cooler that sells for almost $100 (US). At
$93 and change from Amazon.com
, this is by far the most expensive air cooler I have come across. I reviewed the NH-U12S and the NH-U14S about a year ago, and the prices on those coolers are still about the same now; approximately $66 and $75 respectively. Both of those are fairly pricey, but the NH-D15 sells for about $20 more! While the NH-D15 does offer better performance, it does so only slightly since there really is only so much you can do, and an incremental performance increase may be all you can really expect. That said, the basic design of the cooler and ongoing development from Noctua, suggests that you should be able to re-use this cooler on multiple platforms for years to come. So, as your system evolves over time, this cooler should definitely be a key component to include in your upgrade plans.
Considering that this cooler exceeded the cooling performance of the NH-U12S and the NH-U14S, and matched if not exceeded the low noise production of both, the
Noctua
NH-D15 heatpipe tower CPU cooler has to receive the Bigbruin.com "Recommended" and "Whisper Quiet" awards.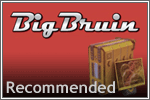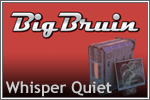 Pros:
» Excellent cooling performance
» Extremely low noise production
» Simple, straightforward installation
» Plenty of accessories and adapters to fit any installation
Cons:
» Almost $100 (US) for a CPU air cooler
» Size may interfere with other system components
Please drop by the Bigbruin.com Forum and feel free to post any
comments or questions
.