Testing:
To test the performance of the Noctua NH-D15 cooler it was compared head-to-head with a handful of other coolers on an Intel Core i3 3225, installed in the system shown on the previous page. The stock Intel cooler, NZXT Havik 140, Noctua NH-U12S, and NH-U14S were all put up against the NH-D15 with both a single fan and two fans installed. All fans were run at their default speed, without the used of any speed controlling cables.


Idle testing consisted of letting the system sit at the Windows 7 desktop with no other applications running for a period of 30 minutes. Load testing consisted of running 3DMark Vantage back-to-back three times. HWMonitor 1.19 was used to monitor idle and load temperatures, and the room was maintained at a consistent 22 degrees Celsius.
The chart below details that it is apparently pretty easy for all coolers (except Intel's) to get the processor down in to the low 30 degree range while at idle. 32C must be the low limit, as the number of fans on the NH-D15 didn't change things, and the NH-U14S put up the same results.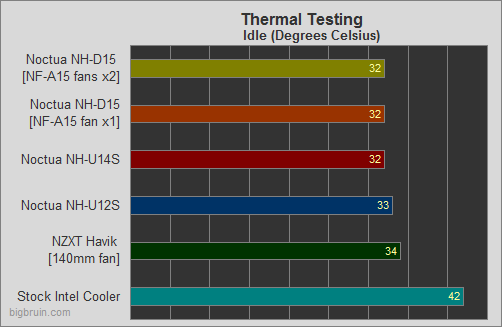 The next chart shows the load testing results, where things get a bit more interesting. With one fan the NH-D15 is already the top performer, but adding a second fan drops the CPU temperature down another two degrees. The NH-U12S and the NH-U14S are not far off of the performance provided by the NH-D15, but close is only good for second and third place in this contest.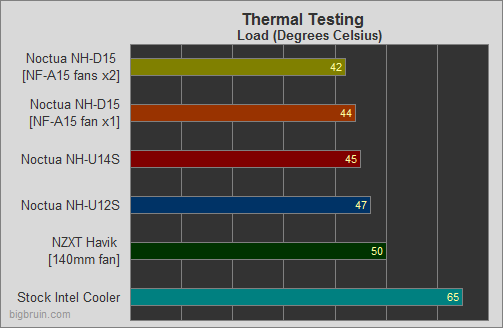 While the cooling performance was impressive, noise production is always a strong point of a Noctua cooler. With just one fan installed the system was nearly silent, and adding a second only created the slightest increase in noise... perhaps in part due to one fan blowing on to the inlet of the other. With a case side panel installed I would argue that you wouldn't hear the cooler in either configuration, but I can not confirm that right now. Given how well the cooler performed with just one fan installed, I would have no problem suggesting that you leave the second fan off and perhaps swap out an existing case fan for it.