Installation and Operation:
Typically, installing a big CPU cooler in a small system can be a challenge. My main machine uses a Gigabyte brand micro-ATX motherboard in a Cougar Spike micro-ATX case with an Intel Core i3 3225 processor, a 240GB SSD and 8GB of memory. This isn't the tiniest system, but the thickness of the case has prevented me from using the Noctua NH-U14S, while the NH-U12S does fit... barely. For this review, I recognize that the case side panel may not be going back on during testing as the NH-D15 is taller than the NH-U12S.
The first image shows the CPU socket prepared with the SecuFirm2 mounting system - ready to receive the cooler. There is a backplate that was placed below the motherboard, and the four pre-installed bolts poke through the holes around the CPU socket. You then slide a standoff on to each of the four bolts, and install the brackets that tie a pair of bolts together like a bridge. You can change the installation of the SecuFirm2 brackets so that the cooler is oriented either facing the back of the case or facing the PSU. As shown, it will face the PSU as I was concerned about blocking the PCI Express slot closest to the CPU socket.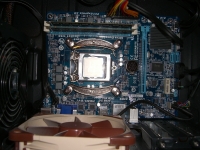 The next image shows that the cooler comes pretty close to that first PCI Express slot in this configuration, but it will allow me to use an expansion card (I use integrated graphics, but a PCI Express mounted mSATA SSD in this slot). What you may have noticed different between the first two images above is that the case's exhaust fan had to be removed to make room for the NH-D15. It's a big cooler, but we'll make it fit in here!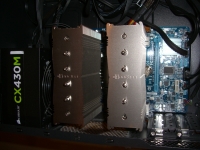 In the next pair of images we have the single, centered mounted fan installed. With a second fan installed it would either block the PCI Express slot or be way too tight up against the PSU.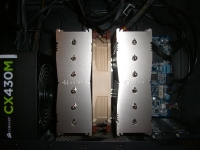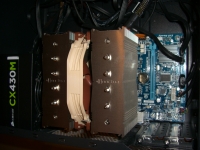 Just to allow the use of the second cooling fan, the SSD was installed in the PCIe x1 slot instead of the PCIe x16 slot during testing. And in the end, the case side panel could not go back on.