The Basics:
The NH-D15 is a large heatpipe cooler which feature two separate towers of cooling fins, and a total of six U-shaped heatpipes. Each tower of fins handles one leg from each of the six heatpipes, and each tower can also be fitted with its own 140mm cooling fan. The promotional image below shows the NH-D15 in perhaps its optimal configuration, with a NF-A15 140mm cooling fan pushing air through each of the towers.


Out of the box, the NH-D15 has just one of the NF-A15 fans installed, and they place it in the center of the cooling tower sandwich. You can see that with the top of the fan flush with the top of the cooler, it extends lower than the array of fins. This won't do much for cooling the CPU, but it should increase airflow to other system components like memory and chipsets. This view also shows the beefy heatpipes snaking their way up into the cooling fins.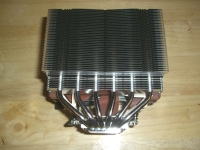 While the size of the cooler may lead to a variety of compatibility issues with smaller systems, this centered single fan configuration would obviously be the most compact. Addiing the second fan will make the cooler about one inch (25mm) thicker. No tools are required to install either fan, as they are securely mounted with wire clips.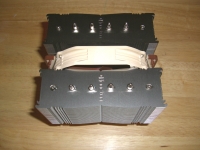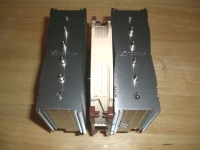 The next two images show the base of the cooler, which is extremely flat, smooth, and fairly shiny. Checking out the below left image also reveals that the array of fins do not have a uniform thickness, but are stepped down at the bottom, making it several millimeters thinner in this area. This may prove useful to some users with tall memory modules near their CPU socket.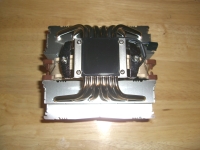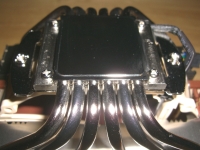 The final images in this section are some of the more important ones, as they show the NH-D15 side-by-side with the NH-U12S. The NH-U12S is a good sized tower cooler that supports 120mm cooling fans, and it looks absolutely tiny next to the NH-D15.