Conclusion:
The
Noctua
NH-L9i low profile Intel CPU cooler may not be the cooler of choice for the typical computer, but it is an excellent choice for those building up an extremely compact small form factor system. It was able to outperform another low profile cooler and the stock Intel cooler, while also being by far the quietest of the three. In addition to keeping the CPU temperature and noise level down, installation time was also kept to a minimum. The whole installation process took just a few minutes, and it uses bolts instead of plastic push pins to get the job done right and not just quickly.


On the downside, the main issue is that you have to have a CPU with a maximum thermal design power (TDP) of 65W or less. While this seems to be easier to accomplish with an Intel processor versus an AMD processor, there are still plenty of popular chips that this cooler can not be considered for use with. Just be sure to check your CPU's specifications before deciding to buy this cooler for it. Additionally, while I am sure it would fit in a large number of compact small form factor systems, I happen to have systems built in one of the smallest Mini-ITX cases and I can not use the NH-L9 series coolers in there (if I want to have a hard drive installed, too). Mini-Box M350 owners will have to pass on this cooler, unless they are using an mSATA SSD or something other than a 2.5" drive.
Checking out
Amazon.com
finds the Noctua NH-L9i for $47.25 (US). Without much thought put in to it, that seems like quite a high price for such a little cooler. But, the people at Noctua obviously put a good deal of thought in to designing and creating the cooler in order to make such a small cooler perform so well. While it is louder and not quite as capable in terms of cooling performance, it is of interest to note that the Titan cooler used in this review sells for under $16 (US).
The Pros and Cons for the NH-L9i are identical to the ones listed for the NH-L9a, and for good reason. All of the good things that can be done for an AMD cooler can also be done for an Intel cooler, while the price of almost $50 and the maximum TDP of 65 Watts also apply to both models.
The Noctua NH-L9i low profile Intel CPU cooler earns the Bigbruin.com "Highly Recommended" and "Whisper Quiet" awards for its performance, ease of installation, and low noise output.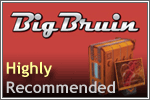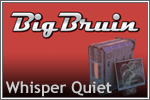 Pros:
» Ultra compact
» Quiet straight out of the box, but low noise adapter makes it nearly silent
» Impressive performance for such a little cooler
» Simple installation
Cons:
» 65W TDP rules out some popular Intel CPUs for use with this cooler
» Priced close to $50 (US)
Please drop by the Bigbruin.com Forum and feel free to post any
comments or questions
.