Conclusion:
The
Noctua
NH-L9a low profile AMD CPU cooler may be small, but it definitely isn't weak. During testing it easily outperformed the stock cooler it replaced in terms of cooling power and noise production. When compared to another, larger cooler cooler from Noctua it didn't come out on top, but it did fare well. Even without the Low Noise Adapter included in the package, the cooler was extremely quiet while keeping the CPU operating at safe temperatures.
In addition to the performance and near silence, the NH-L9a was extremely easy to install. The whole process took less than 5 minutes and I would have to agree with the description of the installation found on the Noctua site where they call it "child's play".


There aren't too many coolers available for tiny HTPCs and small form factor computers, but this seems like a great choice. I rough fit this cooler in to the smallest Mini-ITX case I have (the Mini-Box M350) and it will fit with one consideration... I found that you can install the cooler on a motherboard in the case, but because the 2.5" drives install above the motherboard, and just about two inches above, the top of the cooler will interfere with the drives and you would really need about 5-10mm more height to make it work well. Most cases aren't quite this small though, so this extreme case may not apply to many potential users.
There isn't much negative to say regarding the NH-L9a. The main thing to remember is that the maximum TDP supported by this cooler is 65W, so you have to make sure your processor is a match before choosing this cooler for your system. We have newer AMD processors on hand, but since they all had TDPs of 95W we didn't give them a shot.
Visiting
Amazon.com
finds the Noctua NH-L9a for just over $47 (US). I wasn't sure what to expect for a price, but I suppose I was a little surprised it was that high. On the one hand, there isn't much too it, but on the other hand they have designed something to be super compact that can perform like many coolers that are much larger. Noctua's coolers are never cheap, but they offer a level of performance and silence that is well worth the money.
In the end, the Noctua NH-L9a low profile AMD CPU cooler earns the Bigbruin.com "Highly Recommended" and "Whisper Quiet" awards for its performance, ease of installation, and low noise output.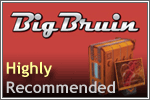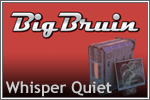 Pros:
» Ultra compact
» Quiet straight out of the box, but low noise adapter makes it nearly silent
» Impressive performance for such a little cooler
» Simple installation
Cons:
» 65W TDP rules out many AMD CPUs for use with this cooler
» Priced close to $50 (US)
Please drop by the Bigbruin.com Forum and feel free to post any
comments or questions
.