Installation and Operation:
As mentioned earlier, the NH-L9a was installed on an Athlon X2 5400+ processor due to the fact that we didn't have anything from AMD that was newer and respected the cooler's maximum TDP limit of 65W. Even this older dual core CPU is right at the limit, since it is rated at 65W. The images below show the cooler mounted on this processor while using an ATX motherboard from ECS's Black Series. The installation process was simple, as all you have to do is align the backplate and the CPU cooler around the holes in the motherboard, and then install the four screws provided.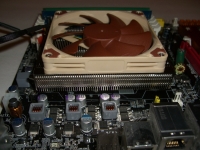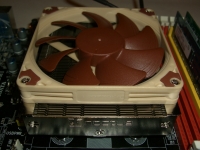 It easily cleared all motherboard electrical components, and didn't get in the way of memory slots or anything else. The below right image shows the bottom of the board in order to show how the backplate attaches.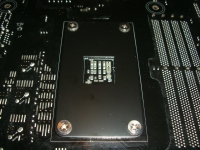 To test the performance of the NH-L9a it was compared head-to-head with two other coolers while installed on the AMD Athlon X2 5400+ processor. A Noctua NH-L12 with just the lower 92mm fan installed was used, and the stock AMD cooler was pulled out of the closet for this review. Idle testing consisted of letting the system sit at the Windows 7 desktop with no other applications running. Load testing consisted of running 3DMark Vantage back-to-back three times. HWMonitor 1.19 was used to monitor idle and load temperatures, and the room was maintained at a consistent 22 degrees Celsius.
The chart below shows the idle results, where we see minimal difference in performance. What you don't see is that the AMD stock cooler is annoyingly loud, while the other two coolers are extremely quiet.
The next chart covers the load results, which shows the AMD cooler runs the warmest... and it is still loud. The Noctua NH-L12 outperforms the much smaller NH-L9a by 6 degrees, but keep in mind that the top 120mm fan is not being used, and only the lower 92mm fan is. All things considered, the performance of the NH-L9a is very impressive. It runs quietly and definitely keeps the processor at a temperature I would be happy with.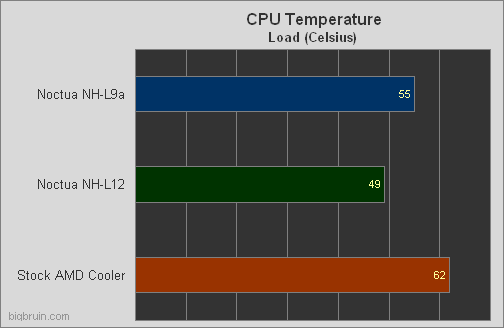 All of the thermal testing was conducted with the fan plugged directly in to a motherboard header. Subsequent runs were made with the Low Noise Adapter installed and the cooler got even quieter. Even on the open testbed you had to be pretty close to hear the fan running. Some additional testing found that the NH-L9a could still outperform the stock cooler in this mode, but the balance of performance and noise output without using the LNA was good enough for me!