Packaging and Accessories:
For a CPU cooler, the NH-L9a comes in a very compact box. It's roughly the size of 3 or 4 DVDs stacked up, which is tiny when you think of the size of the box that a typical monster heatpipe cooler might ship in. While there are no photos on the box, the text provided describes what is inside fairly well. Other than a small dimensional drawing on the back, you really don't know exactly what the cooler looks, so a retail setting might not be the best location for this type of cooler.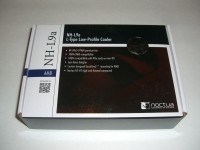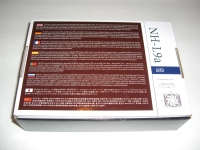 The below left image shows the box opened up to show off the contents. The cooler is braced in a cardboard frame, with a foam sheet placed on top of that. Embedded in the foam sheet we find the bulk of the accessories, which include the Low Noie Adapter (LNA), mounting screws, a case badge, and a syringe of thermal paste. The below right image shows the cooler removed from the box with other accessories found below the cardboard frame. These include a motherboard back plate and a bag of screws you might need if you wanted to attach a thicker fan.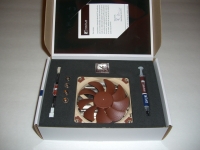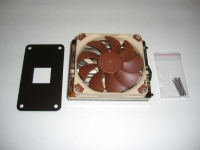 The Basics:
The first two images show the NH-L9a from above, with the pre-installed NF-A9x14 PWM fan attached. At just 37mm high and with a foot print of 114mm by 92mm, it is definitely compact. The fan is attached by screws, but because Noctua embeds softer rubber in the corners of the fan's frame, there should be minimal noise or vibration transmitted.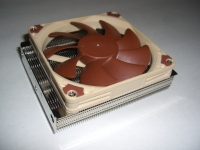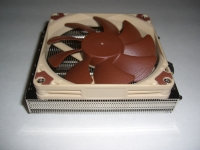 Flipping the cooler over provides a better look at the tight array of fins, as well as of the two heatpipes used to further aid cooling. The heatpipes run from the CPU core contact area out to the far edges of the cooler - something like a mirror image of the letter J. From the bottom we also see the mounting bracket which will work with AMD AM2(+), AM3(+), FM1, and FM2 processors, as well as the sleeved power lead whcih terminates in a 4-pin PWM connector.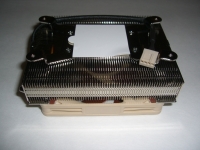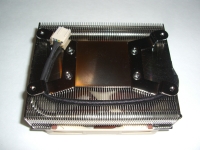 The final pair of images in this section provide a preview of the next review we'll have from Noctua, by showing the NH-L9a with its Intel counterpart, the NH-L9i. Other than a different mounting design, the main difference is that the Intel version is 92x92x37mm, instead of 114x92x37mm. Intel's keep out area is smaller, and it results in a cooler the same size as the fan.