Conclusion:
The
Noctua
NH-L12 heatpipe CPU cooler is an excellent choice for an HTPC or desktop system where space is at a premium. With the 120mm fan installed on top of the cooler it stands just 93mm (@3.7") tall, and if you can manage to run with just the lower 92mm fan installed you can get the overall height down to 66mm (@2.6"). This will fit a large number of cases, including some of the slimmer low profile units available. And considering its strong cooling performance, you may just want to use it in a full size system - even if you have room for a much larger tower style cooler.
The noise production of this cooler is extremely impressive. It was tested with just the top 120mm fan installed, and whether it had the L.N.A. (low noise adapter) installed or not, it was just about silent. As the latest addition to a media center computer in my home, I can now confidently describe the system as silent and not just low noise. With the case's side panel in place, you can not hear the system from more than a couple feet away and multimedia enjoyment is now never interrupted by the sound of spinning fans.


On the down side of things, I think the compatibility could be improved by having the fins and fans centered over the CPU socket a bit more. The test system has a fairly typical configuration with the memory just to the right of the CPU socket, and the lower 92mm fan could not be used since it interfered with the memory (which had no heatspreaders and was of typical height). The mounting brackets allowed two installation orientations, and rotating the cooler 180 degrees in order to get away from the memory would have resulted in the case's exhaust fan having to be removed in order for the cooler to fit - though both fans on the NH-L12 could have been used in this arrangement.
Other systems showed similar interference issues, so users should expect to have to be flexible with their installations. Consider the two fans included with the cooler as possible options, but not as guaranteed to both work.
Newegg.com
is one place where you will find the NH-L12 in stock, with a price tag of about
$70 (US)
. While you definitely get a high quality cooler that fits a niche not targeted by many manufacturers, the price puts it way up on the high side of the air cooler market.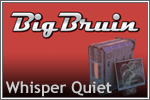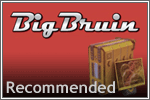 Pros:
» Impressive cooling performance
» Low profile and fairly small footprint makes it usable in systems of many sizes
» Extremely quiet, with or without the Low Noise Adapter installed
» Excellent bundle of accessories and installation instructions are well done
Cons:
» Could not install lower 92mm fan due to interference with system memory
» Design might have greater compatibility if fins/fans were centered over CPU socket
» Fairly high priced at about $70 (US)
Please drop by the Bigbruin.com Forum and feel free to post any
comments or questions
.