Conclusion:
The
Noctua
NH-C12P CPU cooler and NF-S12B FLX Fan wound up being a perfect choice for the small form factor system I was assembling, and would probably be a great choice for many others. It was a tight fit, but there were a few millimeters to spare in the Lian Li V351 case. Considering that most high performance coolers would be way too big for a small form factor case, it was nice to see such performance in a more compact option.
Both the cooler and fan are high quality products that do an exceptional job at cooling, and do so without making much noise at all. Whether you use the L.N.A., U.L.N.A., or no noise adapter, the fan is very quiet. Even with the cooler running outside of a case it is very hard to notice the fan noise.


The only issue I ran into was due to the case used for installation. Although it is called a low profile cooler, the total height is 122mm from the motherboard to the top of the 120mm diameter cooling fan. This height is still too much for some HTPC cases, especially models that use low profile expansion cards. The cooler with fan attached is pretty heavy at 730g, although in a SFF case like the V351 there isn't any stress on the motherboard and the mounting kit since the motherboard is horizontally installed.
A search of the Internet finds the NH-C12P CPU cooler for $64 and up, and Xoxide.com happens to have it in stock for $66.99. The NF-S12B FLX fan sells for about $25 on its own. The price of the cooler is in the normal range for a good CPU cooler with a fan, but the standalone fan might be too pricey for some people, despite its features and performance.
The Noctua NH-C12P CPU cooler & NF-S12B FLX fan earn the Bigbruin.com "Recommended" and "Whisper Quiet" awards for their almost silent operation, as well as out cooling the stock Intel i7 CPU cooler.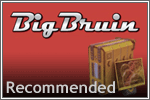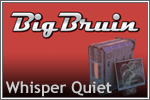 Pros:
» Excellent mounting system - very secure fit
» U.L.N.A. & L.N.A. adapters are a cool idea to lower the noise even further
» CPU cooler price is reasonable
» Intel LGA775 and AMD AM2/AM2+/AM3 mounting hardware included
Cons:
» Color scheme on fans isn't appealing to everyone
» Might need to mount the fan after installing the cooler in small cases
» FLX fan price is a little on the high side
» Intel LGA1156/LGA1366 mounting hardware is available by request only
» Fan is quiet enough for most people to not need the U.L.N.A. & L.N.A. adapters
Please drop by the Bigbruin.com Forum and feel free to post any
comments or questions
.