Conclusion:
The NH-L9x65 is another solid offering from
Noctua
, but we really shouldn't expect anything less. The impressive cooling performance, low noise operation, and sturdy installation hardware make it an excellent choice for someone looking for a compact CPU cooler.
While the NH-L9x65 is much more compact than the typical CPU cooler, it isn't as small as many others. The key benefit of coolers like the ITX30 and NH-L9i comes from their height... I would not be able to fit the NH-L9x65 in to the Mini-ITX cases that I use (Minibox M350), but the other two (as well as the Titan cooler) do fit. If I had a system with just enough room for a 65mm cooler and demanded the best cooling, the NH-L9x65 would be the choice among those tested. But for me, my PC cases go from requiring something smaller than the NH-L9x65 to being large enough to allow a heatpipe tower cooler to be installed. The size of the NH-L9x65, puts it into an odd middle ground for me where it doesn't really offer an advantage. There are obviously have to be many cases that are just the right size for the NH-L9x65, so as people source components to put their systems together they'll have to look at how well things are going to fit.


Another size related consideration is that compact coolers generally are not your best choice for overclocking or high power CPUs. The same goes for the NH-L9x65, where certain CPU types with a TDP over 84W aren't recommended, and although you can use some processors with a TDP as high as 140W, very good system airflow is required. Your best bet is to check out
this link
before deciding if this cooler will work for your processor.
During testing, the NH-L9x65 outperformed all of the other compact coolers on hand. This included another compact cooler from Noctua, the NH-L9i, where it was a few degrees less at both idle and load conditions. The key difference between these coolers is the height (65mm for the NH-L9x65 and 37mm for the NH-L9i) and the number of heatpipes (4 for the NH-L9x65 and 2 for the NH-L9i). Another difference is revealed when you compare the prices of these coolers, where you will find that the NH-L9x65 is about 23% more expensive than the NH-L9i. At Amazon.com the NH-L9x65 sells for about $56 (US), while the NH-L9i sells for about $43 (US). Yes, the NH-L9x65 does perform better, but just a little bit and both provide excellent temperatures and low noise operation.
In the end, the Noctua NH-L9x65 low-profile CPU cooler easily earns the Bigbruin.com "Recommended" award for providing excellent cooling results in a compact package, and the "Whisper Quiet" award for doing so without making much noise at all.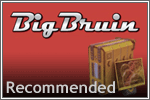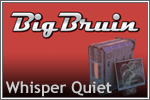 Pros:
» Solid cooling performance.
» Low noise operation.
» Easy to install, and installation mechanism is very sturdy.
» Bundled with a handful of useful accessories.
» Great choice for small systems (but not tiny systems).
Cons:
» Not quite compact enough to fit in all the systems I would like to use it in.
» Not intended for overclocking or for CPUs with a TDP over 84W.
» Priced about 25% higher than the NH-L9i.
Please drop by the Bigbruin.com Forum and feel free to post any
comments or questions
.