Testing:
The performance of the Noctua NH-L9x65 Low-Profile CPU Cooler was compared head-to-head with four other coolers installed on an Intel i3-3225 processor, used in an HTPC system. While not the most high-end CPU available, it fits the power rating of the cooler and the system itself fits the niche that the NH-L9x65 seems targeted toward. The ThermoLab ITX30, Noctua NH-L9i, the Titan DC-155A915Z/RPW, and the stock Intel cooler will provide the competition for the NH-L9x65, all of which are also fairly low profile coolers. Idle testing consisted of letting the system sit at the Windows 7 desktop with no other applications running for a period of 30 minutes. Load testing consisted of running 3DMark Vantage back-to-back three times. HWMonitor 1.19 was used to monitor idle and load temperatures, and the room was maintained at a consistent 21 degrees Celsius.
The chart below shows the idle results, where the NH-L9x65 is the top performer. While it is a low profile cooler, it is the largest of the bunch and its size most definitely helps it to dissipate the heat generated even better. Some of the other coolers about half as tall as the NH-L9x65, so they don't have the surface area or mass for the same heat transfer.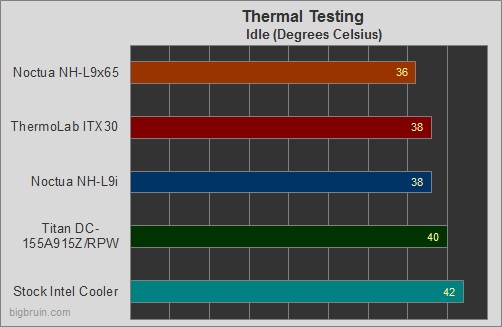 The next chart looks at the load results, which shows that when the processor gets warmed up, the NH-L9x65 still offers the best results. That said, the Noctua NH-L9i is only 2 degrees warmer and the ThermoLab ITX30 is only four degrees warmer. All of these coolers (minus the stock Intel cooler) are very quiet when they are handling this heat load, so I can not complain about that.