Installation and Operation:
The test installation was completed on an ASUS branded mATX motherboard with an Intel i3-3225 processor installed. Many of my HTPC style systems have been built around a Mini-ITX form factor, but those cases are so compact that the NH-L9x65 would be too tall. This mATX system would allow some larger heatpipe tower coolers, but we'll give the NH-L9x65 a chance to operate in there anyway.
The first step for the installation on an 1155 system is to install the Noctua provided back plate through the motherboard, as shown in the below left image. Then flip the board over so it is right side up, and place four black plastic standoffs over the bolts that will be coming through the motherboard from the back plate. You then secure the "NM-IMB2" brackets to either side of the CPU socket using the four provided nuts (and the screwdriver provided by Noctua). As pictured in the below right image, the CPU socket is now ready to receive the cooler. The two threaded studs sticking up from the bracket is all that is required to secure the cooler to the retention mechanism.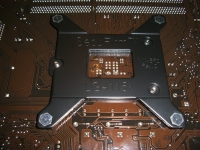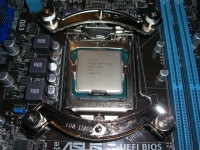 The next two images show the cooler (minus the fan) installed on the motherboard prior to the system memory being installed. This shows the clearance between the cooler and the memory slots ,as well as how it stands in comparison to other motherboard features. There is plenty of clearance between the cooler and other features, and installing memory with any sized heatspreader should not be a problem.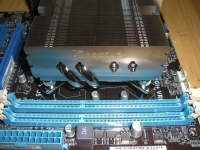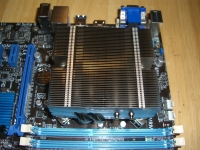 Next we see the fan has been installed on the cooler, and two sticks of memory have been installed on the board, too. Installation is really simple, although some people will not care for having to remove the motherboard in order to install the back plate. This type of design really does make things more secure and the interface between the CPU and the cooler can really be designed to have super tight tolerances for excellent heat transfer.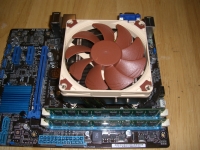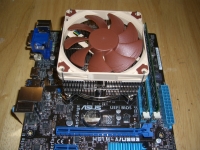 The final image in this section shows a close up of the gap between the memory and the heatsink. There are definitely no interference issues with this setup!