Western Digital
is one of the premier manufacturers of hard drives and they have built up quite a catalog of complimentary products to make use of their drives. In this review we are going to take a look at the My Passport Ultra 1TB portable hard drive, which is a compact device featuring USB 3.0 connectivity and a handful of additional features available thanks to pre-installed software.


The promotional image above shows the blue unit we will be covering in this review. For those looking to color coordinate their drive, you can also get the My Passport Ultra with a red, black, or titanium finish. You can also select different capacity options, with models available featuring 500GB, 1TB, or 2TB of storage space.
More information can be found on the
My Passport Ultra official product page
of the
Western Digital
website.
Packaging and Accessories:
The My Passport Ultra is sold in the retail packaging shown below. You get a view of the actual drive inside thanks to the window in the box, and the rest of the box's surfaces are covered in useful information in both English and French.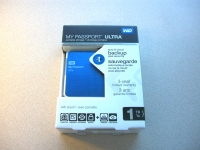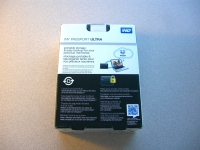 Inside the box we find a plastic tray with three compartments. As shown in the below left image, one compartment holds the drive's cloth bag, the second holds the drive, and the third holds the USB 3.0 cable.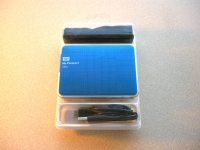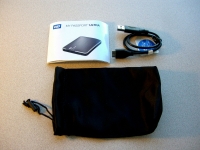 The above right image shows the cable and the bag along with the only other item included with the drive... the documentation. There is no need for anything else, as the drive gets all the power it needs via the USB cable, and the software provided by Western Digital is all found on the drive itself.