Conclusion:
Currently the
myCharge
Adventure JumpStarter is selling for
$75
at several stores, including
Amazon.com
. At this price, if you are only going to use it as an emergency device charger you'd be better served to buy something else. The 6600mAh battery, while sufficient for this task is a bit expensive for just a battery back-up. Typically you could get a quality power bank with around 10,000mAh capacity for around $30. So you'd have more capacity for less.


So really the only reason to pick one of these up is for the jump starting capability. Even though the probability of needing this is low it is good to know you have an option if you get stuck. And since myCharge claims this will hold it power for up to 1 year, you should be able to stow this away in your glovebox and rarely have to check it.
But I am concerned about two things; first is the amperage capacity of this device. It claims 400A peak and 200A starting. The battery for my vehicle is rated for 800 cold cranking amps. So it can supply 800A at 0F and maintain at least 7.2V. While lithium ion batteries are less affected by the cold, they will still lose some performance as things get colder. Since this 400A rating is already a bit low I am concerned that if you needed this in the winter or had an excessively drained battery you may be out of luck. For this reason I would highly suggest you look to get something with a higher amp rating. Typically units with a 400 rating claim they can start up to a 4 liter gas engine or a 2.5 liter diesel. While this may seem enough to cover most vehicles I am highly suspect of these claims and personally I would like to have a bit more power. My second concern is with the price. You can find numerous 400A options on Amazon for about half that price. While these are mainly from no name companies with possibly questionable specs and quality control, there are other options out there. For a little more money you can find a 1000A, well reviewed unit. If it were my money on the line I would either hold out for a higher capacity unit from myCharge, or if I needed one right away I would get a 1000A unit.
The myCharge Adventure Jumpstart portable charger earns the Bigbruin.com "Great Idea" award for its quality of construction and convenience.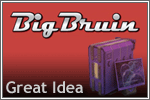 Pros:
» Quality construction
» Flashlight is bright enough for intended task
» Included device charging capabilities are very good
» Convenience of built-in charging cable
Cons:
» Doesn't include AC/DC adapter or carry bag
» 400A might not be enough
» Priced a little on the high side
Please drop by the Bigbruin.com Forum and feel free to post any
comments or questions
.