Conclusion:
The problem with mSATA is that not every laptop has access to one of these slots, and even if the laptop has a slot with the right form factor, it might not be fully compatible with a mSATA drive. In testing the
Mushkin
Atlas 30GB mSATA SSD the test laptop had a flaw which did not allow us to fully test the Atlas to its full potential. What we did see is the power of what the little mSATA drive could be capable of. Based on the specifications we can predict even more from the Atlas if it was used on a system with appropriate hardware (ie, a SATA 6Gbps capable mSATA slot).
In testing as a cache drive in conjunction with a traditional 2.5" hard drive, the Mushkin Atlas was found to speed up booting a great deal. Taking a standard 7200RPM SATA III drive to nearly SSD speeds on a slower chipset is a great advantage. When booting Windows we saw an almost 50% boot time reduction once the Atlas drive was installed as a cache drive. Other applications would also be moved to the Atlas making them boot faster with a cache drive in place.


Before rushing out to purchase one of these devices, be sure to check your laptop for compatibility. The Lenovo W530 is one of the latest laptops out there, and while it has the correct slot, it only operated at SATA II speeds. In addition, even though your hardware might have the appropriate port, it might be used by a wireless card or other device. Be sure you verify compatibilty.
The Mushkin Atlas 30GB mSATA SSD is just becoming available, currently it can be found through the
Bigbruin.com shopping engine
for just over $60 (US), and looking around some more finds it at
Newegg.com
for $54.99. This is a very cheap and easy way to increase the performance on a laptop. You could always buy a normal 2.5" 30GB SSD for around the same price, but then you wouldn't be able to use it as a cache drive and continue to use your current 2.5" drive.
Taking into consideration what this little drive can do for a laptop, it receives the Bigbruin.com "Highly Recommended" award. Also, as it can be used to save somebody money over buying a large expensive SSD, it also receives the "Good Value" award.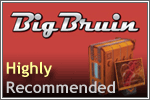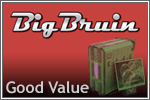 Pros:
» Low cost way to speed up a laptop
» Multiple storage sizes available up to 480GB (available in January 2013)
Cons:
» None
Please drop by the Bigbruin.com Forum and feel free to post any
comments or questions
.