Testing:
To test the Mushkin Atlas 30GB mSATA SSD, it was installed in a Lenovo W530 with the following specifications:
» Intel Quad Core i7 3720QM 2.6GHz
» Intel QM77 chipset
» 6GB (2x 3GB PC3-12800 DDR3 1600MHz SDRAM)
» 180GB Solid State Drive


While the W530 will utilize the mSATA device it will only run at SATA II speeds. The QM77 chipset only supports 2 x SATA III (6GBps) ports, while the other 4 SATA channels are limited to SATA II (3GBps). The SATA III ports are used by the internal hard drive and the Ultrabay. Check with your manufacturer on what your device supports.
During the testing phase, we will look at how the Atlas performs with some real world boot testing, CrystalDiskMark, and Passmark Performance Test 8.0. In addition the drive will be tested as both a boot drive, and as a cache drive.
The following drives will be included in the testing process:
» Seagate Momentus Thin 250GB
» Intel 520 180GB SSD
Real World Boot Times:
With the Windows 7 Event Viewer you can fairly accurately monitor system boot times. It takes the human component out of making sure a timer is set and stopped at the same times. The Event Viewer also provides a boot time from the point that the Windows logo appears until the CPU is at 80% idle, which is when it is considered a truly usable state.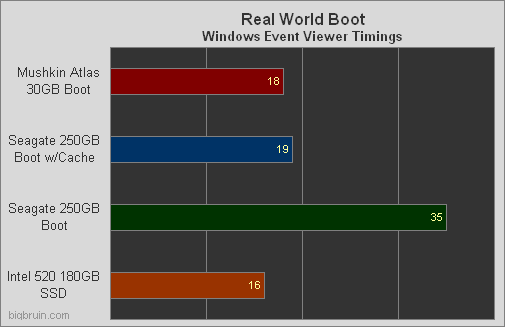 As the above chart shows, using the Mushkin Atlas as either a boot drive or as a cache drive will significantly boost your boot times. If this was able to operate at SATA III speeds I have no doubts that another second or two would be shaved off the timings.
The Atlas was not included as a cache drive with the Intel 180GB SSD as it actually provided worse results. Which makes sense since the mSATA port is only SATA II while the hard drive port is SATA III. I wouldn't be surprised if when running as a SATA III cache drive, the Atlas increased the performance of the Intel SSD; however I can't verify that, since the laptop used has a physical limitation.