The Basics:
Packaging for the
Mushkin
Atlas is a simple plastic shell that is sealed on all sides. This packaging method should provide all the protection needed so the drive arrives at its final destination undamaged. The front of the package is very simple and provides enough information for a user to determine whether this is a suitable mSATA SSD for their system. The back of the package has generic information, but nothing specific about the drive. While those looking at this most likely already know what they are looking for, it would be helpful to have some of the specifications listed on the packaging, should this be found in a retail setting.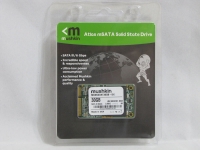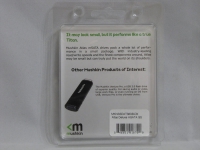 Once removed from the packaging, there is not much to it. The "front" of the drive has a label that lists the model specific information. Beneath the label are two of the memory chips.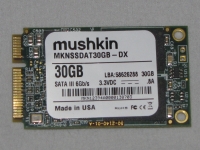 On the back of the drive we find some important information. First, the controller is the SandForce SF-2281 which is a pretty common controller. Next to that are two additional memory chips; which are clearly Micron branded. Assuming there is no firmware code to reduce the size of the storage, these should be 8GB chips.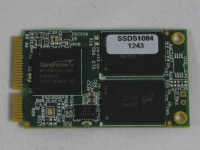 As mentioned in the specifications, the size of the Mushkin Atlas mSATA drive is 50.80 x 29.85 x 4.35mm, which translates to roughly 2 x 1.2 x .2 inches. As this picture shows, it is slightly longer than two quarters, and intended to fit in a mSATA compliant slot on a notebook or ultrabook.