CrystalDiskMark 2.2
During CrystalDiskMark's sequential read test, the MUKii U3 enclosure was the slowest of the test devices at 109.1MB/s, which places it about 22MB/s slower than the Thermaltake BlacX 5G dock. This is close to 3x faster than USB 2.0, which is respectable when looking at it in that sense.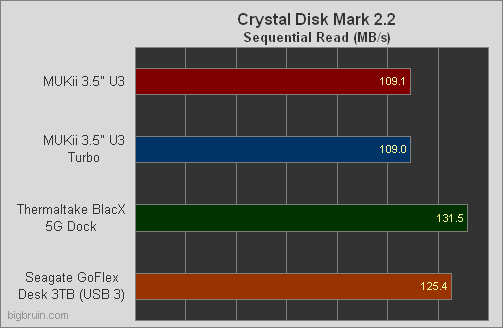 In the sequential write test, the MUKii enclosure narrowly out performed the Seagate GoFlex Desk by a little more than 1MB/s, and closed the distance to the Thermaltake BlacX 5G to 3MB/s.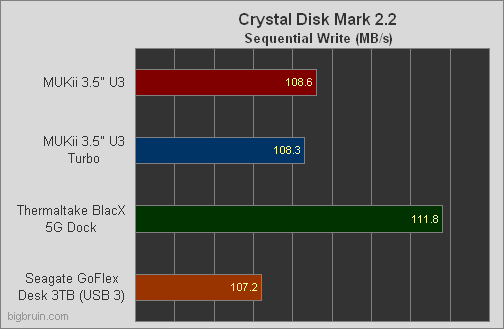 While reading 512K blocks, the BlacX 5G outperforms the MUKii U3 by 8MB/s. As expected, the TurboHDD doesn't do much to improve the performance, providing only a 1MB/s speed boost.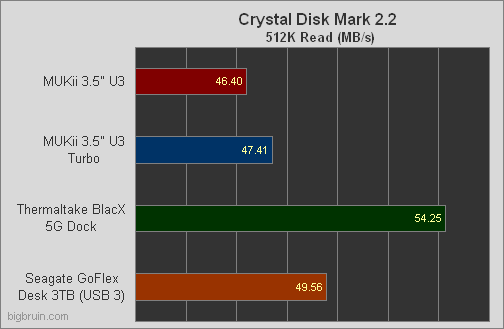 Unfortunately, while writing 512K blocks, the MUKii U3 falls behind by almost 40%. The BlacX 5G produced speeds around 86MB/s, while the U3 produced speeds of about 54MB/s. This is a huge difference, and could make a big difference in transfer times.