Performance:
To test the
MUKii
TransImp TIP-330U3-BK USB 3.0 drive enclosure, the following base system was used:
» ASUS M4A89GTD Pro/USB3 Motherboard
» AMD 1090T CPU
» Thermaltake Frio CPU Cooler
» 8GB Samsung Generic DDR3 10600 Memory
» eVGA GeForce 275GTX Video Card
» Kingston 128GB SSDNow V+
» Seagate 7200.11 1.5TB
» Seagate 7200.12 1.0TB
» LG Blu-Ray Burner
» Corsair CS600 Power Supply
The TransImp TIP-330U3-BK will be tested against other USB 3.0 devices, such as Seagate's GoFlex Desk 1TB USB 3.0 and Thermaltake's BlacX 5G hard drive dock. The same hard drive will be installed in the MUKii U3 and the Thermaltake 5G; a 250GB 3.5" Seagate 7200.12.
The following tests will be executed on each configuration to gauge its performance:
» Real World Transfers
» CrystalDiskMark 2.2
A quick test reveals the "Turbo" software doesn't increase the speed when using the USB 3.0 connection. It does increase the speed of the USB 2.0 connection by about 8mb/s.
Real World File Transfer
To test the real world performance of the TransImp TIP-330U3-BK, two file types were selected. One folder containing 5GB of MP3 files (small files), and another 7.3GB ISO (large file) will be used for the test. The speeds will be timed with a stopwatch, which will be started when the mouse button is released to copy the files to the hard drive.
The MUKii enclosure was the slowest of the group, coming in about 15 seconds after the Thermaltake BlacX 5G dock. While I was hoping the Turbo option would work with this enclosure, I found that it doesn't do much over USB 3.0 (same results with the 2.5" version of this enclosure).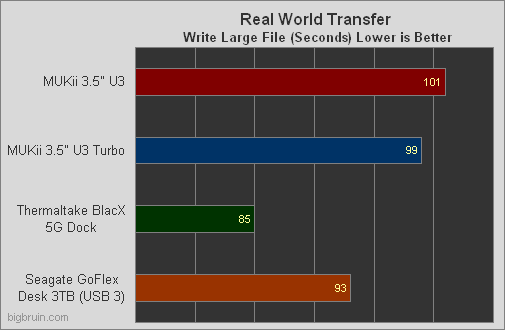 As with the large file transfer, the MUKii was about 15 seconds slower than the Thermaltake BlacX 5G dock, and about 6 seconds slower than the Seagate GoFlex Desk.