MUKii
is a fairly new company that has developed a rather impressive line-up of computer components consisting of coolers, power supplies, cases, and storage related products. MUKii's line of storage related products is referred to as TransImp, and this line includes hard drive enclosures, docking stations, various converters, and hubs that can support eSATA, USB 2.0 and USB 3.0 for both 2.5" and 3.5" hard drives. We previously covered one of MUKii's TransImp products in
this review
, and we're going to take a look at another one here.


This review will take a look at one of MUKii's 3.5" TransImp hard drive enclosures; the TIP-330U3-BK. Before taking a closer look at this USB 3.0 / USB 2.0 enclosure, let's take a look at some published data on it, as found on the
official product page
on the MUKii website.
Features:
» Compatible with any 3.5" SATA hard drive.
» USB interface for easy data access.
» Compliant with USB 3.0 Backward Compatible With USB 2.0.
» Transfer rates up to 5Gb/s with USB 3.0.
» Hot Swappable :Plug and play
» Blue LED indicates Power / HDD status.
» High quality and stylish design.
» Aluminum case provides excellent heat dissipation.
» Free MUKii hard drive utility software:
Auto format/ Smart energy saving/USB Turbo/Auto backup/Status feedback.
Specifications:
» Model:TIP-330U3-BK
» Device support: SATA hard drive
» Device size: 3.5"
» Internal interface: Serial ATA
» External interface: USB 3.0
» Material: Aluminum
» Dimension: 215x124x32mm
» Power: AC power adapter
Packaging:
The packaging consists of a white cardboard box with orange and red accents. The front of the box presents the user with a couple views of the enclosure, and a very brief overview of several features. The back of the box provides more detailed information in multiple languages. In the lower left corner of the back side is a chart that shows the speed potential of USB 2.0 and USB 3.0. This packaging is the same style as MUKii uses for the 2.5" version of the drive.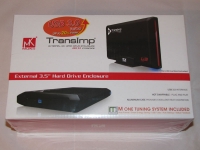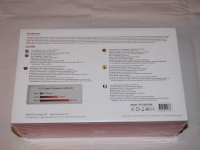 The side of the box opens to reveal a foam case that holds the enclosure in place, and ensures it does not get damaged. The enclosure is sealed in a plastic bag which keeps moisture and tiny scratches from affecting the finish.