Conclusion:
I think the Motorola Moto G with
Republic Wireless
service may hit the sweet spot for many people tired of paying high cell phone bills. The Moto G is a solid phone that performs really well, and the network in my area had less dead zones than T-Mobile and AT&T. Even if you are on a tight budget I would highly suggest spending the extra $30 to double the storage capacity. With a few apps installed, and after taking a few pictures, the 8GB review sample is down to only 3.5GB free. My personal opinion is if you are like my wife, the Moto G on the $25/month plan might be perfect for you. She tends to talk and text much more than surf, so the 3G speeds won't be an issue for occasional price checking and shopping. Besides, for many 4G LTE coverage is hit and miss. As is the case with all discount providers there are some concessions you make to get these lower prices, but the concessions at Republic Wireless seem minor, non-intrusive, and don't require you to do much of anything. I feel like this is a device you can give anyone, including my octogenarian mom, and it will work just fine.


I would love to get my hands on the Motorola Moto X, also offered by Republic Wireless. I tend to consume a lot more data than my wife, so I would like to see if the 4G LTE speeds in my area make the $40 plan worthwhile. If not, I can easily drop the plan down to 3G speeds via the app and change it back periodically to see if the network improves in my area. The Moto X is more expensive though, $299 for 16GB vs $179. But for the extra $120 bucks you get a much better camera spec wise. For example, the camera boasts 10MP vs. 5MP on the Moto G. This is likely good enough for me to leave my small point and shoot at home. It also buys you a larger screen, 4.7" vs. 4.5". While not a huge step up, the extra real estate may help the eyes with prolonged use, especially if I can't tether my tablets. Also, Republic Wireless is currently offering a free Chromecast with each Moto X purchase.
Overall I think Republic Wireless deserves a serious look for anyone tired of paying big money for their cellular data use. That said, the Motorola Moto G on Republic Wireless earns the Bigbruin.com "Recommended" and "Good Value" awards.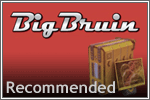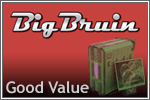 Pros:
» Reasonably priced phones that actually perform great.
» Competitive rates and plans that should cover everyone's needs.
» Ability to change plans twice a month to meet your needs.
» Wi-Fi calling works well.
» They offer a 30 day trial, so there isn't much to lose.
Cons:
» No support for short codes or tethering may be an issue for some.
» Calling to only the 50 US states and Canada may be an issue for some.
Please drop by the Bigbruin.com Forum and feel free to post any
comments or questions
.