A little over a year ago we reviewed the
Kingston MobileLite wireless card reader
, which was a big improvement on Kingston's original wireless flash drive - the
WiDrive
. In this review we are looking at the next generation MobileLite wireless card reader, dubbed the G2. At first glance the device looks more like an external hard drive and while the feature set is very similar to the original MobileLite wireless card reader, there are two big changes. Since much of the capabilities are similar, in this review I will focus on these changes.


Before taking a look at the sample provided for review, let's look at some of the features and specifications provided by Kingston. To make comparison easier, anything in
BOLD
is a change from the last generation MobileLite. For a full set of features and specifications you can visit the
official product page
on the Kingston website.
Features and Specifications:
» Inputs for storage: USB and SD- reads SD, SDHC, SDXC and micro SD/microSDHC/microSDXC (with included adapter)
» Dimensions:
129.14mm x 79.09mm x 19.28mm
» Weight:
171g
» Wireless network interface: Wi-Fi 802.11 g/n with wireless security (WPA2)
» Rechargeable battery: up to
13
hours of continuous use
» Battery: built in Li-Polymer
4640mAh
3.7V
» Local Storage: wirelessly transfer files to/from the MobileLite Wireless app and the MobileLite Wireless hardware
» Camera Roll support: allows users to move photos from their mobile device to MobileLite Wireless
» Cable: USB to micro USB cable included
» Operating Temperature: 0 C to 40C (32F to 104F)
» Storage Temperature: -10C to 45C (-14F to 113F)
» Guaranteed:
two year warranty
, free technical support
» Customizable Device Name (SSID): user selectable Wi-Fi priority list when there are multiple APN/Key available
» File Support:
» MobileLite Wireless can store any file type.
» Playback and viewing are based on the files supported by the mobile device
» General file format support: MP3, WAV, m4V, mp4 (H.264), jpg, tif and pdf
» Compatible mobile devices:
» iPad2, iPad (3rd & 4th Gen), iPad mini, iPad Air, iPhone 4/4s/5, iPod touch
» Kindle Fire, Kindle Fire HD
»
Android 4.0+.
» WLAN Ethernet port:
Yes
Packaging and Accessories:
Last time I noted that while the device's packaging was secure, it didn't do much to explain what the device was for. This time I think
Kingston
improved the packaging in this regard. Opening the flap on the front of the box gives general information on what the device can be used for and on the back it details compatible products.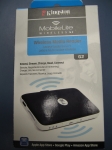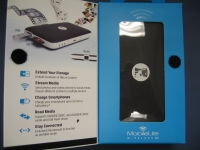 Opening the box reveals the MobileLite Wireless G2 device, a USB cable, and a microSD card adapter. The only instructions are printed on the bottom of the insert and they only detail how to enter charging mode and how to power the unit up. Full manuals are available on Kingston's site: one for Android and one for Apple. Normally I would at least like to see a quick start guide, but luckily the device is very easy to use and set up. Plus, once the app is loaded it runs through a quick tutorial.