Conclusion:
If you're looking to build a truly compact, no nonsense mini-ITX system, the
Mini-Box.com
M350 universal mini-ITX enclosure is an excellent case to consider. Just slightly larger than a mini-ITX board itself, and only 62mm tall, you can't get much smaller in this form factor. And depending on the components you use inside, you may be able to build a completely silent system. Coupled with a solid state drive and a passively cooled motherboard, there could be zero moving parts.


The M350 is also appealing for a few of its more unique features. The mounting options are one, giving you the option to set it on a desktop like a normal case, or to mount it to a wall, DIN rail, or VESA monitor mount. Being so light and compact, you could attach this to a variety of non-traditional locations and free up more space on your desktop, in your entertainment center, or where ever else this system might wind up.
The other unique feature I really liked is the hidden USB ports behind the front bezel. You can turn removable devices into semi-permanent components of this system by installing them here. A perfect location for Bluetooth and WiFi adapters.
There isn't much to say on the negative side of things for this case. I did find that the SATA data cable routing was a bit tight, but it worked out just fine. A short cable, and perhaps one with a 90 degree connector are highly recommended. Other than that, having a set of notches for VESA 75 on the bottom of the case in addition to the VESA 100 system would be a nice touch.
Mini-Box.com sells the M350 universal mini-ITX enclosure for
$39.95
, which is definitely an attractive price. If you need a picoPSU to power the system you intend to build inside it, you can always buy one separately, or you could opt for the combination provided for this review, which includes the case, 80W picoPSU, and AC adapter for just
$69.00
. You will have to buy the different mounting brackets separately, but none of them cost more than a few dollars, so it isn't really a big deal.
Considering the features, style, simplicity, and price, the
Mini-Box.com
M350 universal mini-ITX enclosure earns the Bigbruin.com "Highly Recommended" award.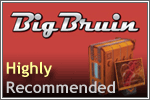 Pros:
» Attractive styling
» Hidden USB connections great for WiFi or Bluetooth
» Can be used without fans for a 100% solid state setup
» Simple installation
» Inexpensive
» Flexible installation options: foot, DIN, wall, or VESA mount compatible
Cons:
» Might have a tight fit with hard drive SATA cable
» VESA mounting system only works with 100mm systems
Please drop by the Bigbruin.com Forum and feel free to post any
comments or questions
.