Installation:
A system with the following components was installed in the
Mini-Box.com
M350 universal mini-ITX enclosure for this review:
»
Intel D510MO Mini-ITX motherboard
with 1.66GHz Intel Atom dual core processor
» 1GB DDR2 667MHz memory
»
60GB OCZ Technology Agility solid state drive
»
picoPSU 80W power supply
What is great about this system is that all of the components are solid state, so the fanless capabilities of the M350 will be even more welcome. There will be no moving parts for absolutely silent computing. But if it turns out that such a system still runs warm, there is plenty of room for additional cooling fans.


The first two images show the motherboard, power supply, and memory installed inside the case. Everything went in easily, and the wires for the power supply and front panel connections were easy to route. The below right image takes a closer look at the area near the front panel connections on the case, as they happen to overhang the motherboard's two SATA connectors. This layout will vary from board to board, and while it may mean I have to push some cables to the side to make all of the necessary connections, everything should still fit.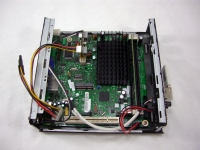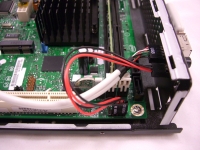 In a parallel step, the hard drive needs to be mounted to the bracket before installation. In the images below we see the SSD bolted to the underside of the bracket using four screws provided with the M350. With a drive installed you lose two locations for 40mm cooling fans, so with two drives installed you would be down to the single 40mm fan location found behind the front bezel.