External Examination:
The bulk of the housing is constructed of steel, while the front bezel is plastic. The whole enclosure is a somewhat satin black color, and overall it looks very well finished.


From the images below you can see why it can get away with being fanless... A large percentage of the surface area is perforated ovular holes to let air in from any direction. The front bezel is also ventilated, and the only other features you might notice are the illuminated power switch and a blank area for OEMs to add their logo.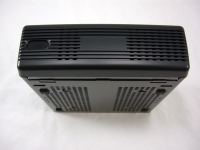 The next set of images show that the perforations continue around each side and to the bottom of the case. On the bottom we also find a set of four rubberized feet to support the case, if you happen to skip any of the less traditional mounting options available. Around back we don't find much room for expansion... There is a punch-out for an I/O panel, a small hole for the picoPSU power connector, and another small hole for a WiFi antenna. Even if your motherboard happens to have an expansion PCI / PCI Express slot, you will not be able to use it due to the compact size of the case and lack of an expansion slot on the back.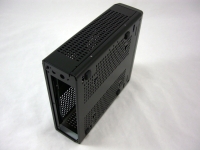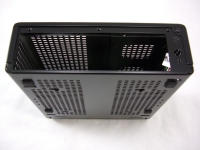 The next image takes one more look at the bottom, this time to focus on the four L-shaped slots found near the middle. This is where the case would slide on to the VESA mounting hardware when attached to a VESA 100 sized system. What would be nice is for there to be a second set of slots for VESA 75, in order to accommodate a greater number of monitors.