Packaging and Accessories:
Mini-Box.com
shipped the M350 in a brown outer box provided to protect the equally generic inner box shown below. There are no markings on this box, but since this product would be sold primarily online, retail style decorations would just be a waste. Inside the box, the case and accessories are all wrapped in individual plastic bags, and a custom cut foam frame is used to protect the case from damage. Everything looked great, so the packing material was obviously adequate for the journey from coast to coast.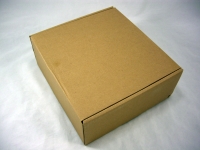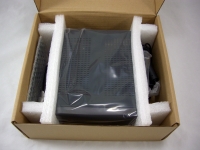 The accessories shown include all of the items included with the review sample, but most of these items are sold separately and would not be included when purchasing the base M350. From left to right we see a set of
wall mounts
, a bag of
VESA monitor mounting hardware
, a
hard drive / fan mounting plate
(one is pre-installed in the case), an AC adaptor for a picoPSU 80W, and some installation hardware.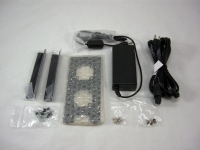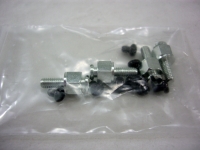 The above right image simply takes a closer look at the VESA mounting hardware. This could be a very convenient accessory to have if you own a VESA mountable monitor, but happen to be using it on a foot mount. You just thread the four silver screws into the VESA mounts on your monitor, and then slide them in to pre-cut holes in the case. Your whole system will now be mounted out of site on your monitor, taking up zero desktop real estate, as shown in the promotional image below.


While the base M350 is available from Mini-Box.com for just $39.95, the system provided for review would be more like the combination shown
here
for $69.00, which includes the case, plus the power supply and AC adapter. The case is intended for use with the picoPSU, so if you don't already have one, you should consider this combination. Add in the handful of additional mounting hardware included, and the total cost of this case is still under $80 (US).