Accessories:
Opening the accessories box reveals a plethora of goodies.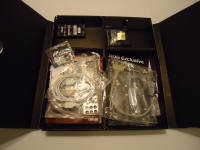 First and foremost are the standard Quickstart Guide, User Guide, and Feature Guide. If you plan on utilizing ROG Connect or ROG iDirect, these should be required reading.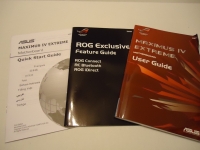 Next we have the driver and application disk, cable labels (which are a nice added touch), and case window graphic if you're so inclined to add a little extra bling to your rig.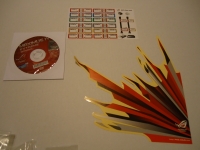 Here we see four pairs of cables - two sets of SATA II and two set of SATA III cables (the ones with the white band on them).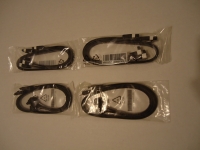 In the image below you can see the I/O backplane. Nice for ASUS to label each of the ports in case you're unsure of what is what back there. With so many ports, it may be confusing to some users.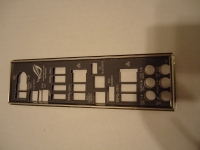 Also included is a bag of zipties (another handy accessory) and three thermal probes. There are three thermal senors on the ASUS Maximus IV Extreme - one by the 8-pin power header at the top of the board, one by the I/O ports, and one at the bottom of the board between the audio and USB 1.1/2.0 headers.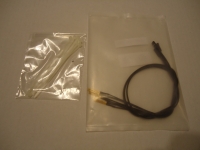 The next image shows all of the graphics card connectors. Included are a 3-way SLI connector, extra long SLI ribbon cable, and a Crossfire connector giving the user the ability to choose between the multi-GPU platforms.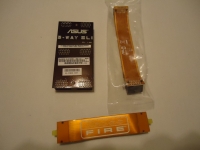 Next up is a USB 1.1/2.0 cable for use with the four USB headers on the unit. Also in this image is a USB 1.1/2.0 quick connect header for cases that come with the USB cable broken down into numerous cables and a front panel quick connect header.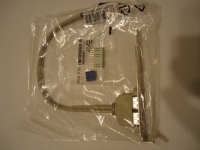 As we saw earlier, the Maximus IV Extreme has eight headers for tracking voltages during extreme overclocking. ASUS refers to this as their ROG Probelt feature. Included are two jumpers for use with this feature, or as you can see from the included instructions, you can always just take measurements directly from the pins on the board.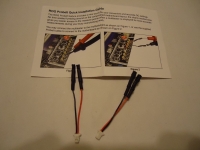 Lastly we have the Bluetooth module. The unit plugs into the motherboard on a header that is positioned between the two onboard NICs. From the side, you can see the Bluetooth button which illuminates during operation, as well as the antenna encased in a protective blue cover. It will provide the typical Bluetooth communication options, as well as advanced functions through the iROG controller like power on/off, reading debug codes, or monitoring things like temperatures and voltages