The Basics:
With the board out of the box, we'll start off by taking a closer look at all of the components onboard.


The expansion slots on the Maximus IV Extreme include four x16 slots (electrically single @x16, dual @x8, triple @x8, x16, x16 ), one x4 slot, and a single x1 PCI Express slot.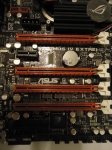 One of the great features of the motherboard is the large, voltage regulator and MOSFET cooler. The profile is low enough, and the space around the CPU socket should be sufficient enough, for most aftermarket coolers available on the market. According to ASUS, their voltage regulator module (VRM) "design can easily achieve the ultimate performance with adjustable CPU PWM frequency. It expedites heat dissipation and achieves better electric conduction keeping critical components reliable. Now you'll be able to push your spanking new Intel CPU to the limit, hitting benchmark scores that others only dream of. Extreme Engine Digi+ balances the need for voltage and the desire for rock solid performance to bring the ultimate user experience."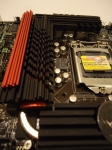 The Northbridge fan has a Republic of Gamers branded fan that glows red when the motherboard is powered on. As you would expect with a higher-end motherboard, the fan is very quiet.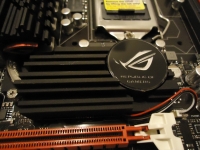 The Southbridge heatsink is quite large, fan-less, and features a simple ASUS branding.