Conclusion:
I have never been overly impressed by a pair of earphones, but the
Master & Dynamic
ME01 earphones have changed that. They sound great, they fit well, and I can listen for hours and don't have to turn off the music just because my ears are getting uncomfortable. The ME01s are not only comfortable in use, they can stay put better than other earphones I have used. I am no longer constantly fidgeting with the earbuds to try to keep them in my ear thanks to the lightweight, well balanced design that Master & Dynamic has come up with.
The sound quality of the ME01s is very impressive, and while the highs and lows are great, I am most pleased with how clear and warm the mids are. Vocals just sound so clear, and my music enjoyment has actually shifted to focus more on artists whose voices are as important as their instruments. What also helps with the audio enjoyment is that the ME01s block out an impressive level of outside noise. With most earphones I find myself turning up the volume higher than I would like, just to block outside noises, but I can now listen at a reasonable volume and hear even less of what is going on around me.


There are no significant cons to list with the ME01s, but I am still hoping that the cord can relax completely. The flat cable really is a nice touch in terms of style and function, but the kinks seemed slow to leave after unpacking them for the first time. We're down to one kinky spot in the cord, and I hope that with more time and use the cord will lay completely flat. The other point to make is to make sure people realize that while these will sound great with just about any audio device, full functionality is only possible with Apple devices.
The Master & Dynamic line of headphones, earphones, and accessories are not as widely available as some other brands, but popular online retailers like Amazon and Jet do offer some of their products. Your best bet may be to buy directly from the
Master & Dynamic website
, as the prices are the same as elsewhere, and they offer free shipping, which is indicated as being 2-day service. The price for a set of ME01s and all of the included accessories is
$129
, which is definitely a premium price to pay for earphones. That said, these are most definitely a premium set of earphones and as their website implies, I agree that you can get decades of use from them. While I have no experience with either set, Master & Dynamic also offers the ME03 and ME05 earphones, which are apparently even more refined given their respective $159 and $199 price tags.
In the end, the Master & Dynamic ME01 earphones earn the Bigbruin.com "Recommended" award.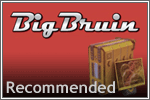 Pros:
» Excellent sound
» Blocks out more external noise than I was expecting
» Well balanced and lightweight in ear
» Stay put in my ears no matter how active I am
» Subtle and sophisticated aesthetics appeal to me
Cons:
» Some kinks in cord still there, weeks after coming out of the packaging
» Keep in mind, full functionality is only for Apple devices
Please drop by the Bigbruin.com Forum and feel free to post any
comments or questions
.