Conclusion:
The Lightify LED tunable white light bulb may not be something you need to have, but you may just find yourself wanting one (or some). I can already see practical uses for it around my home, such as being installed at the reading chair shown in the video... The room uses 2700K bulbs everywhere else, and I would not want an unmatched bulb there full time, but since receiving the bulb my one daughter has commented that she likes reading there better with whiter light, so we turn it up to around 5000K. In addition, it will be nice to be able to turn on a light remotely on the days we go out and don't come home quite as early as we planned. Not only so we can see when coming home in the dark, but also as a security measure to let anyone else think that maybe someone is home.
Setting up the gateway for the first time takes several minutes, but it is by no means difficult. Once that is done, adding bulbs going forward should be quick and easy. The app is well laid out and easy to use, although I feel that using some text on those fairly blank screens would make it even easier to use (or at least to learn). The quality of the app is high, and so is the quality of the bulb and gateway. They seem well built, and their appearances are refined and tasteful. The bulb looks like a bulb should, and the gateway is compact and unobtrusive so you can plug it in just about anywhere without worrying about it junking up your room.


As mentioned previously, the gateway and the bulb sell for about $30 each. If you buy them together you can save a few dollars, as I see that $55 is the going price for the combo. These are widely available online, and at places like Home Depot and Best Buy. The price of your typical LED bulb has come crashing down recently, and around me a 60W equivalent 810 Lumen bulb can be had for under $2/each. You're paying a quite a premium for the smart features of this bulb, considering you can get fifteen dumb bulbs for the same price. Setting up a lighting scheme consisting of multiple bulbs in a room/home will get expensive, too, since each bulb you buy is another $30.
Overall, the bulb and the gateway work very well and earn the Bigbruin.com "Great Idea" award.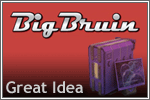 Pros:
» Setup is fairly painless
» Bulb quality and performance are top notch
» App is easy to use
» Control up to 50 lights with one Lightify gateway and create elaborate lighting scenes
Cons:
» Limited range and penetration through walls/floors may not reach your whole home
» About $30 for one bulb, and about $30 for the gateway
Please drop by the Bigbruin.com Forum and feel free to post any
comments or questions
.