In Use:
For testing purposes, the LG Flatron W2340VG 23-inch widescreen LCD monitor was hooked up to an EVGA GeForce 8800 GT video card connected via a DVI-D cable. I also had a NEC Multisync LCD2070WNX monitor connected using it as a dual monitor set up. When compared to the NEC, the LG W2340VG Flatron looks amazing. The LG's colors are bright and vibrant, and the image quality is far superior then the NEC. The NEC had a dullness to it that I didn't notice before. But then again, I didn't have it sitting next to a HD 1080P monitor before.


I also wanted to connect my PS3 to the monitor via the HDMI connection. As expected, the image was superb and vibrant. The main reason I wanted to hook it up this way was to test the audio connection on the back of the monitor, because this monitor doesn't come with external speakers. I hooked up my headphones to the audio connection and I was able to get sound through my headset as it was designed.
As for the menu buttons and options on the LG W2340VG, they couldn't get any simpler. The buttons are placed perfectly under the menu/mode options displayed on the screen. You know exactly what button to push under any of the on screen controls.
In the monitor setup you have several choices to pick from. Menu, Mode, Auto, Input and the Exit option. In the Menu option you have the ability to change brightness and contrast, change language settings, and you have the ability to shut down the power indicator light for the monitor itself. The power indicator light has a pleasant white glow to it that never distracted or bothered me.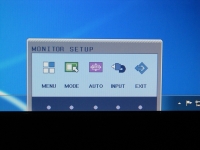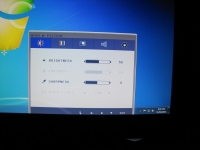 In the Mode section you have the options to pick your photo effect, ratio, and Fx engine as shown in the pictures below. In Fx engine (bottom right) you have multiple default settings for the different viewing options you may be using this monitor for. The photo effect option (bottom left) allows for the user to pick different color settings including normal, Gaussian blur, sepia, and monochrome. The input selection shuffles through the various connections and displays each one. If there isn't a connection on a particular input, a blank black screen will appear. With 3 different connection types, you can theoretically connect 3 different sources.