The Basics:
After connecting the base and the screen, we can take a look at the LG Flatron W2340VG 23-inch widescreen LCD monitor in its entirety. The unit provided could easily be mistaken for a brand new unit. The glossy black finish gives it a stylish and attractive look. The monitor also has a very slim bezel, and as seen from the side view won't take up very much space on your desktop.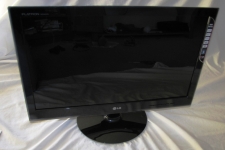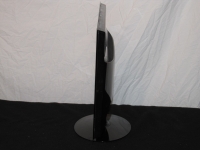 As seen in the image below, the top right of the LG W2340VG came with a decal placed to detail some of the monitor's key features.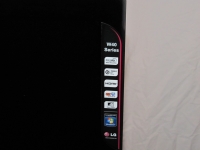 The bottom right corner of the LG W2340VG has a power button with a power indicator that lights up when turned on. The menu buttons are also found in this area. The top left of the monitor is shown below and has the Flatron model displayed as well as the model number.The image below also shows off the translucent quality that the edge has on this monitor.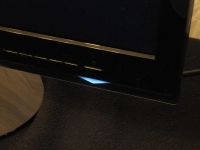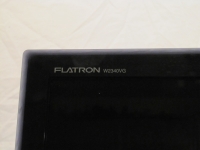 The bottom center of the monitor is pictured below, and here we see the base connected to the stand of the monitor, as well as the LG logo. The bottom left of the monitor has nothing out of the ordinary and isn't pictured in this review.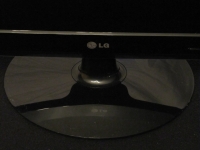 Taking a look at the back, the LG logo is placed in the center near the top. The power, VGA, DVI, HDMI and audio connectors are all hidden underneath a small lip on the backside of the LG W2340VG.