In Use - leakSMART Hub (continued):
Selecting the menu in the top left then Alerts allows you to configure what the system does or does not alert you to. Obviously leak detection is there but it also has battery alerts and connectivity alerts for the valve and sensors, valve cycling error and lost communication. Then at the bottom you can select to add contacts, per leakSMART the limitation is 10 SMS per day, so keep this in mind as you choose who gets notified. Under contacts you can select to have people contacted via email, text message or both.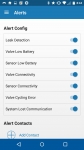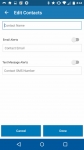 The second menu option is Events. Here you will find a list of all the activities the system saw, details include the time and date of the event, the device involved and classification of event.
The final Menu option is Settings. Here you can change your password, temperature unit preference, delete the hub, log out or get additional help.
Performance - leakSMART Hub:
I really was expecting this app to be a mess. The reality is I have seen some terrible apps from some big companies, so I really wasn't expecting much. But much to my surprise the app is very clean, intuitive and flat out functions well. After setting up text alerts I simulated a leak and within seconds the app was indicating a leak and started to close my valve. Seconds later I had the text. If you opt to get text messages, please save this number in your phone! If you are like me and a text comes in as just a number I flat out ignore it, this is not the type of thing you want to ignore.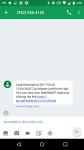 Conclusion - leakSMART Hub:
leakSMART sells a kit with valve, hub and (5) sensors for $699, with the current promotion (LOVE2017) this come out to be just about $525. This is still a bit pricey for many but when you weigh the costs of a flood it is insignificant. If you get one you should contact your insurance company as many will give a discount which may offset some of the cost over the years. One thing I would like to see added is a temperature alarm. Currently you can review the individual sensor temperatures but it would be nice to have the system monitor this and alert you if the temp falls below a set point. This would be especially valuable for a seasonal home where you may have forgotten to winterize it. This could give you the warning that inside temps are falling and you should do something. Another minor point would be for them to make a sensor with a remote head. Often the area you want to monitor is hard to reach, it would be nice if you could drop the wired head down where you need it and place the battery compartment somewhere accessible.
But the reality is this system works very well and from what I have seen is very reliable too. Even though this hub is super tiny it seems to have at least as good a range as my Iris hub.
Pros:
» Fantastic customer service
» 2 year warranty
» Systems works well and provides remote access
» Local control means you are always protected (with UPS for hub)
» Very simple installation and set up
» Battery status appears to be accurate
» Always have the latest firmware for your devices
Cons:
» Would like to see remote head sensors
» Complete set up can be hard for some to justify cost
» Would like to see temp alarms
» Local alarm is limited to sensor beeps.
» Even though installation of valve is easy, some may be intimidated which increases system cost.