Conclusion:
This
LaCie
Porsche Design USB 3.0 hard drive isn't just all show and no go. It is a very attractive, well designed drive/enclosure combination that happens to perform well at the same time. The included software can make backing up your data very easy, though some may opt to download the full pay version to unlock other features.


Checking out the price shows that the 2TB LaCie Porsche Design is currently available in this gold color scheme at very few locations. The
Apple Store has it for about $150
. Silver can be found elsewhere, but the price is still about the same. This is a bit pricey compared to other Seagate offerings of the same capacity. If you were too look at a Seagate Slim, those are currently available with a 2TB capacity for around $90 - although they are not USB C. For the budget conscious buyer this is not a good choice, you could almost get two more standard drives and have similar performance. But for those that appreciate the beauty of the enclosure or like to have the latest and greatest, this is a good option. It may also be a good option if you are know to be a klutz with directional cables or have small kids, this reversible USB Type C connection is perfect.
In the end, the
LaCie
Porsche Design USB 3.0 hard drive earns the Bigbruin.com "Recommended" award for its impressive performance and appealing style.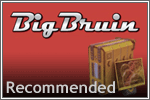 Pros:
» Reversible USB Type C connector provides fast universal connection.
» Very fast read and write speeds.
» Included software makes creating backups or restoring them easy.
» Porsche Design enclosure is visually appealing.
Cons:
» More expensive than comparable Seagate Slim.
» Machined edges do feel sharp.
Please drop by the Bigbruin.com Forum and feel free to post any
comments or questions
.