Packaging and Accessories:
The unit we received came in full retail packaging. As you can see in the pictures below, the packaging is attractive and simple but includes enough pertinent details regarding the drive to allow you to make your buying decision.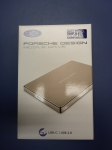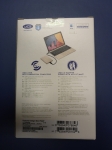 Inside the box you will find the drive enclosed in a plastic tray. Luckily this isn't one of those dreaded sealed plastic packages that makes getting to your latest toy so extremely difficult. In this case you simply lift the top cover off and you have immediate access to the drive. Beneath the drive is a USB C to USB cable as well as a straight through USB C cable. Also included in the box is a Quick Install Guide.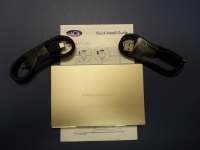 The Basics:
This gold LaCie 2TB Porsche Design portable drive is incredibly thin and has a machined edge that goes all the way around the top and bottom of the drive. This machined edge reveals the silver non-anodized section of aluminum, but also feels somewhat sharp. Not sharp enough to cut you but you will check. Overall it is a very nice looking drive and probably the only thing I will ever own with Porsche on it. At one end of the drive there is the lone connector, a USB C port. Right next to that is a small status LED.