The Basics:
The crash cart adapter itself is a rather compact and simple looking device; something like a portable hard drive that happens to have a VGA cable attached. The body of the housing has a matte black finish with some white text identifying what it is, as well as what the three LEDs indicate. There is an LED to let you know it has access to the server's keyboard/mouse, one to let you know it has access to the server's display adapter, and one to let you know that the link between the computers is active.


On one end of the adapter you have a mini USB port, where you can connect the provided USB cable to your laptop or whatever else you intend to use to control the adapter with. While the cable was long enough for my needs, because it is not hard wired to the adapter, you could always add a different cable.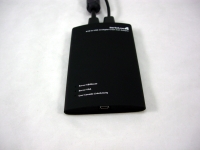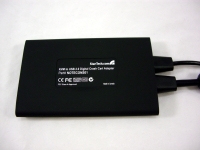 On the other end of the adapter you will find a short cable with a 15-pin VGA adapter and a slightly longer USB cable. These connect to the computer you wish to control. If I were to make a suggestion, it might be to make the VGA cable a bit longer as I found it to be difficult accessing some computers with the box right there, and once you are connected the box is sticking straight out of the back of the computer, supported by just the VGA connection.