Conclusion:
I have been impressed by
Kingwin
components in the past, but I was unfamiliar with their power supplies prior to this review. While I knew they were able to produce nice drive enclosures and CPU coolers, I wasn't convinced that their expertise was going to carry over to power supplies. The Mach-1 1000W power supply proved me wrong, and convinced me that Kingwin should be taken seriously in this market, too.
The unit performed admirably during testing, and I was most impressed by the voltage regulation on the three main rails. While the ripple suppression could be better, the readings on all three rails remained within specification. 80 PLUS Bronze efficiency in a 1000W unit is also an impressive feature.
The aesthetics of the unit are probably what will get the most attention. They are definitely over the top, with more LED lighting than I have seen in a while. Except for the main motherboard connections, the cables are modular with funky threaded connections that light up when connected to the PSU.


While the ripple suppression might be the biggest question mark for this unit, I would also wonder about the longevity of the modular cables. Connecting a cable to the PSU requires a bit more attention and time than a typical modular cable, and I can see the threads or the pins becoming damaged by hasty installations.
Searching the web finds the 1000W Mach-1 for sale at some of the more popular online retailers for just under $200 (US).
Newegg.com
has it for $195, but that is before a mail-in-rebate brings the final price down to just $165. You can definitely get some nice 1000W power supplies for less money, but 80 PLUS Bronze, modular cables, and an extremely unique appearance obviously add value.
The
Kingwin
Mach-1 1000W power supply earns the Bigbruin.com "Recommended" and "Gaming Approved" awards for providing the muscle necessary to power a high end gaming rig, and for looking well suited for that role, too.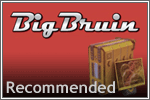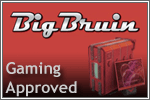 Pros:
» Solid performance
» Voltage regulation is very good
» 80 PLUS Bronze certified
» Modular cables (with illuminated threaded connections)
» Definitely a different look than most power supplies
Cons:
» Six 12V rails?
» Ripple suppression could be better
» Connector design raises concerns about damage and longevity
» MTBF of 100,000 hours at just 25C, but rated for 1000W at 50C
Please drop by the Bigbruin.com Forum and feel free to post any
comments or questions
.