Internal Inspection:
For those interested in seeing what the internals of the Kingwin Mach-1 look like without having to void their warranty, have a peek at the next set of images. The below left image shows an overview of the unit, opened like a clam shell that is being held together by one of the stickers on the outside of the housing. You can see a small diverter attached to the cooling fan to optimize the flow path, two rows of golden colored heatsinks to dissipate heat, and one rather large capacitor sitting just about in the middle of it all.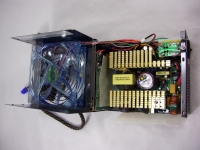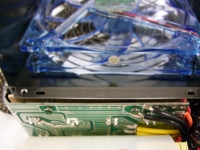 The above right image attempts to provide a better look at the PCB for the modular connections. A sheet of white plastic is used to insulate the traces on the PCB from the rest of the components, but peeling it back a bit will reveal the mapping for the supplied 12V and 5V power.
The next two images simply provide overhead views of the main housing's internals. In these views it is a bit easier to see that the heatsinks have an L-shape, and that they overhang smaller components. This design maximizes the surface area of the heatsink in order to dissipate as much heat as possible.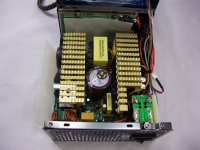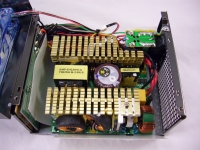 In Use:
If LED lighting isn't your thing, this series of power supplies really might not be for you. When the Kingwin Mach-1 1000W power supply is fired up, there is plenty of blue light to illuminate your system. Not only does the 150mm cooling fan cast a blue glow, but any modular connection that happens to be in use also lights up. As you can see in the images below, the connections only light up if you have a cable connected.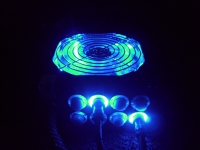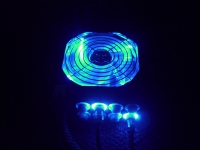 While the fan may get your attention visually, acoustically it may be all but invisible to you. The fan speed is thermally controlled, designed to ramp up as it gets hotter, and it seemed rather quiet to me. While I was able to listen for it under normal operating conditions and at typical elevated temperatures while connected to a PC, I'll be honest, when testing under a heavy load there was so much noise from the test equipment I can't say much about the noise level.