Configuration:
The
Kingston
SSDNow V300 120GB SSD was tested using the following system:
» Intel Core i5 2500K LGA 1155 Quad Core @ 3.7Ghz (OC to 4.7Ghz w/1.38v)
»
ASUS P8Z68 Deluxe Motherboard (Rev 1.0) w/0902 BIOS
»
Crucial Ballistix Sport VLP 16GB 1600MHz DDR3
» Cooler Master Hyper TX3 Heatpipe CPU Cooler
» Storage Disk: Seagate Barracuda 7200.12 1TB hard drive SATA 3Gbps
» 2x nVIDIA GeForce GTX 460 graphics cards (SLI)
» OCZ 750W Fatal1ty Modular Power Supply
» Antec Nine Hundred Ultimate Gamer Case
» Windows 7 Ultimate 64-Bit operating system w/latest Windows Updates


Once the Kingston SSDNow V300 120GB was connected to an available SATA III port and a SATA power connector, the SSD powered up right away. To test the Kingston Hard Drive Cloning Software we mirrored a competitor's 60GB SSD operating system partition. In less than thirty minutes the mirror was completed and the operating system was now installed onto the V300 with the full 120GB of usable space.
Testing:
The Kingston SSDNow V300 120GB was tested with a variety of benchmarks including:
» Windows 7 Cold-boot time
» CrystalDiskMark x64 v3.0.2
» Passmark Performance Test 8.0
All tests were evaluated under Windows 7 64-bit. The review unit was benchmarked against the the OCZ Agility II 60GB (SATA II) SSD, which is several generations old. This allows early adopters of SSDs to see what kind of improvements can be realized with a more modern device. We also are comparing the Kingston SV300 against a higher-end model from Kingston known as the HyperX 3K 120GB (SATA III). Rated transfer speeds for the other benchmark drives are listed below.
» OCZ Agility II 60GB (SATA II) = 285MB/s sequential read, 275MB/s sequential write
» HyperX 3K 120GB (SATA III) = 555MB/s sequential read, 510MB/s sequential write
Windows 7 Cold-boot Time:
Windows 7 boot times were measured with a stopwatch from the time the Windows logo appeared until Microsoft Windows 7 was fully loaded. To ensure Windows was fully loaded the stopwatch was not triggered until an instance of Microsoft Excel started via the startup folder of the start menu had fully loaded.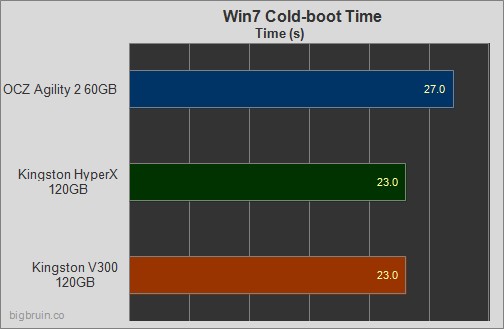 As you can see, the similarly rated Kingston drives both achieved a Windows boot time of approximately 23 seconds. The older OCZ Agility still achieved a very reasonable Win7 boot time of 27 seconds. Overall the Kingston drives allowed the computer to boot 17% faster than the older OCZ SSD. The results indicate even an older SATA II SSD will make a substantial impact in Windows load performance, as 7200RPM conventional harddrives tend to increase load time to 60 seconds or more.