Kingston
has released a new series of solid state drives intended to make the price more appealing for mainstream adoption, as well as to make the upgrade process simple for both desktop and notebook computer owners. The SSDNow V Series of solid state drives offers capacities of 64GB and 128GB, and users can select to receive the drive bundled in kits that include desktop or notebook installation accessories.


Kingston has sent over their 128GB desktop kit, the drive from which is shown in the promotional image above. Before taking a closer look at the sample provided for review, lets look at some published data on the SSDNow V Series 128GB solid state drive as taken from the
official product page
on the Kingston website.
Features:
» Fast: up to 100MB/sec. read; 80MB/sec. write
» Performance: enhances productivity; makes users more efficient
» Innovative: 2.5" form factor; uses NAND flash memory components.
» Silent: Runs silent and cool with no moving mechanical parts
» Reliable: less likely to fail than a standard hard drive
» Shock Resistant: No moving mechanical parts so the SSD handles rougher conditions.
» Supports S.M.A.R.T.: Tells the user when a drive is about to fail
» Guaranteed: 3 year legendary Kingston warranty, 24/7 tech support
Specifications:
» Part Number: SNV125-S2BD/128GB
» Capacity: 128GB
» Storage Temperatures: -40° C to 85° C
» Operating temperatures: 0° C to 70° C
» Vibration Operating: 2.17 G (7-800Hz)
» Vibration Non-Operation: 20 G (20-2000Hz)
» Power Specs: Active: 2.5W (TYP) Sleep: 0.45W (TYP)
» Life expectancy: 1 million hours mean time before failure
Packaging and Accessories:
The Kingston SSDNow V Series 128GB solid state drive is sold in the box shown below. In addition to a mug shot of the Kingston logo, you get a few details about the drive on the front of the box. The back of the box provides more information on the unit, and does so in a variety of languages.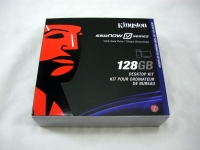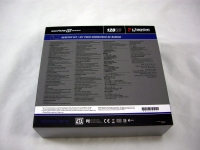 Inside the box, all of the components are secured inside a clear plastic shell. Everything is kept in place by form fitting trays, and when removed you have all of the items shown in the below right image. There is a disk with multi-lingual manuals and Acronis disk management software, 2.5" to 3.5" drive rails, the 128GB SSD, a SATA data cable, and a SATA to 4-pin Molex power adapter.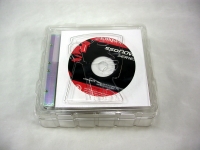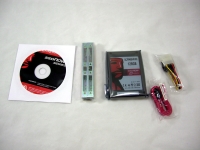 The desktop kit includes accessories to simplify the installation in a traditional computer case, while the notebook kit includes accessories to simplify the installation of the drive in a notebook computer.