Conclusion:
The
Kingston
Class 10 128GB SDXC card has been evaluated to write at speeds above 14MB/s and read at speeds approaching 40MB/s. This is pretty good performance but its by no means the fastest card we have tested. Previous cards such as the
16GB Kingston UHS-I 233X SDHC
performed faster than this SDXC card. With this SDXC card having 8x the storage over the previously reviewd UHS card - its going to be up to our readers to decide if the storage is worthy of the slight performance loss. Serious photographers may be interested in seeing that write speed higher to ensure that their technnology doesn't keep them from getting the shots they want!


The 128GB Kingston SDXC card as tested is available for about
$118 shipped at Amazon.com
. This works out to approximately $1/GB. Which is much more than you would pay for a comparably sized SSD these days, but still cheaper than the Kingston SDHC UHS-I card that still weighs in at $2.6/GB.
For those of you who need the storage or the transfer speeds as documented in this review, I would definitely recommend the Kingston Class 10 128GB SDXC card and it therefore earns the Bigbruin.com "Recommended" Award.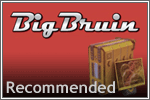 Pros:
» Fast transfer rates
» Plenty of storage - 128GB in something about the size of a postage stamp
» Lifetime warranty with free technical support
Cons:
» There are faster options out there
» Verify that your device is SDXC compatible before making an investment like this
Please drop by the Bigbruin.com Forum and feel free to post any
comments or questions
.