Conclusion:
The
Kingston
UHS-I U3 64GB SDXC card can provide extremely fast transfer rates when used in the proper device. Testing confirmed that you can indeed achieve the rated read speed of 90MB/s and the rated write speed of 80MB/s, which are both very impressive values for an SDXC/SDHC card. Keep in mind that you will not see these speeds with a camera or card reader that is not UHS-I capable. But, if you shoot in Ultra-HD or 4K2K on something like a D-SLR or D-SLM, you will be able to take full advantage of your device's capabilities. The card will allow you to shoot high-quality, high-resolution video and still photos, and you will be able to transfer them to your computer much faster, too.


Shopping around finds the Kingston UHS-I U3 64GB SDXC card at popular online retailers like
Amazon.com
, where the price is just about
$110 for the 64GB card
. You are definitely going to pay a premium price for this kind of high end performance. For reference, Amazon currently sells a Kingston Class 10 card rated for 90/45 MB/s (Read/Write) for about $67 and a lesser known Komputerbay branded 64GB Class 10 card rated for 90/40 MB/s (Read/Write) for about $30. Getting that incredibly fast 80MB/s write speed adds quite a bit to the price tag!
If you have the need for speed when it comes to capturing video in HD, the Kingston UHS-I U3 64GB SDXC card is the card for you. In the end, its stellar performance helps it to earn the Bigbruin.com "Highly Recommended" award.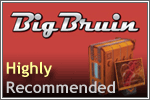 Pros:
» Capable of extremely fast read and write speeds
» Backed by Kingston's lifetime warranty and free technical support
Cons:
» Premium performance commands a premium price
Please drop by the Bigbruin.com Forum and feel free to post any
comments or questions
.