In February of 2014,
Kingston
announced the availability of the "fastest SDHC/SDXC UHS-I Speed Class 3 (U3) card for 4K and Ultra-HD video capture". Despite not owning a camera that shoots in 4K or Ultra-HD, this card still appealled to me for capturing HD video in a different way. Perhaps a card like this could be a solution to recording HDTV in a small form factor system running something like Windows Media Center or XBMC. In a Mini-ITX system or one of Intel's NUCs, you may just have room for a single drive which might be an SSD running the operating system. Having a second drive for the live TV buffer and HDTV recording space would be nice, but may not fit inside the case. A card slot or USB 3.0 based reader with at least a 64GB SDXC would be a good fit... if it could keep up with the bandwidth requirements of multiple HD streams.


The promotional image above shows off the Kingston UHS-I U3 64GB SDXC card, where plenty of information is provided in a very small area. Some of the key points featured on the face of the card are the read and write speeds, which are far above the typical ratings for what would be considered a "fast" Class 10 card. With a claim of read speeds up to 90MB/s and write speeds of up to 80MB/s, this card should fly. We will put these claims to the test after taking a closer look at the basics of the card first.
Features and Specifications:
The following information regarding Kingston's UHS-I U3 SDXC cards was taken from the
product page on the Kingston website
...
» Available Capacities: 16GB, 32GB, 64GB
» Performance: up to 90MB/s read and 80MB/s write, Ultra High-Speed Class 3 (UHS-I U3)
» Compatible: with SDHC & SDXC host devices
» not compatible with standard SD-enabled devices/readers
» SDXC cards are not compatible with SDHC-enabled devices/readers
» Secure: built-in write-protect switch prevents accidental data loss
» File format: FAT32 (SDHC 16GB-32GB) exFAT (SDXC 64GB)
» Compliant: with the SD Card Association specification
» Guaranteed: lifetime warranty, free technical support
» Dimensions: 24mm x 32mm x 2.1mm
» Storage Temperatures: -40°C to 85°C
» Operating Temperature: -25°C to 85°C
» Voltage: 3.3v
Packaging and Accessories:
The Kingston UHS-I U3 64GB SDXC card arrived in the retail style packaging shown below. The SDXC card is visible through a clear plastic window mounted to the front of a sheet of cardboard that provides just about all of the information you might need to know.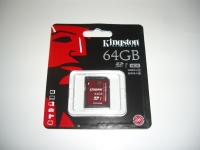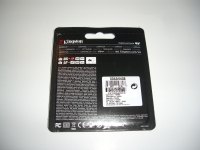 In addition to the 64GB SDXC, Kingston also sent over one of their MobileLite G3 USB 3.0 card readers, shown below with the card. We have featured this accessory in a handful of reviews, as something like this is key to unlocking the full potential of a high speed flash memory product. A point that may not be obvious from the list of features and specifications above is that while this card will be readable in many card readers, if you do not have a UHS-I capable reader, the performance of the card will max out at Class 10 levels.