Conclusion:
Overall I think this is a great device. I much prefer the ability to change out flash media, or spinning platters, as needed to get additional storage. I have the older WiDrive and found it to be a great device, but the main problem I had was deciding which content to take with me. On our next vacation I will be able to load up a bunch of kids movies on one card/drive and movies and music for the adults on another. Heck I can have access to all of it at the same time. In the past I would always guess which videos to bring and inevitably I would miss several requests, now I won't have that issue.


If you are looking to see the MobileLite in action in even more scenarios, be sure to check out
Kingston's Wireless YouTube Channel that Kingston
!
While Kingston indicates this device is for sale at Amazon.com and Staples, so far I have only seen it at
Amazon.com
where it sells for
just under $60
(US). For all the possible scenarios where this device could come in handy, that is definitely a fair price.
For the flexibility it provides in increasing your portable / wireless storage, the Kingston MobileLite Wireless earns the Bigbruin.com "Highly Recommended" award.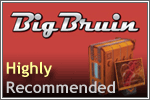 Pros:
» Expandable/quickly changeable storage options.
» Compact sturdy construction.
» Good battery life and ability to charge some devices.
» Keeping the little ones quiet for hours at a time….well worth the price of admission.
» Support for exFAT and SDXC means you'll be able to load a lot of very large files.
Cons:
» Android app improvements (fix lags and add some functionality) are needed.
» App not available on Amazon for Kindle. You can install the apk but this isn't very user friendly.
» Battery percentage indicator would be more helpful than battery graphic.
» Micro SD card slot would be nice, or even a slot to store the adapter.
» Poor documentation for Android.
Please drop by the Bigbruin.com Forum and feel free to post any
comments or questions
.