Performance:
The MobileLite Wireless supports both G and N networks. I connected devices running both and had no problems finding, connecting, and transferring files. The device also allows you to connect and stream data to up to three users at a time. I was able to successfully stream DVD rips to two devices at the same time with no issues, but did not test three. I was even able to skip through the video without much lag. You do however get a warning about Android possibly having issues with videos larger than 2GB, but I did not see any issues. Signal strength was also relatively strong for a small device. Within 5 feet of the device I was regularly seeing link speeds of over 70Mbps. Going about 50 feet away through a few walls the speed dropped to about 5Mbps. Since most people will be using this device within arms reach its performance is more than adequate.
File transfer speeds were also reasonable. The chart below summarizes what was possible for two different sized video files using the 32 GB Class 10 microSD card Kingston supplied. Moving individual pictures was nearly instantaneous.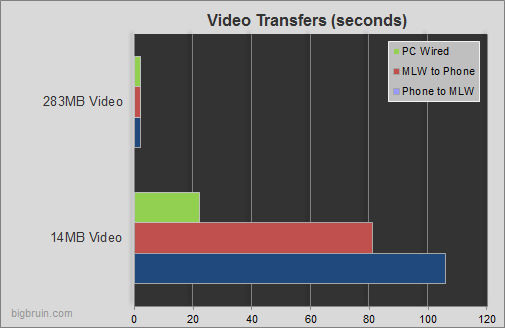 The MobileLite Wireless has a Li-polymer 1800mAh battery rated at 3.7V. According to Kingston this is good for around 5 hours of continuous use. I did stream videos from the device for 3 hours and found the battery was still showing some capacity left. My only gripe is the battery indicator in the General settings only shows an icon, I would prefer to see percentage of battery left.
Kingston also claims the device can be used to recharge you mobile devices. Since this is only an 1800mAh battery, don't expect it to recharge you tablet, but it should do a good job for most phones. There is one caveat to this - it only outputs 3.7V. Some devices need a higher voltage to charge properly, in fact the older Samsung phone I used for testing would initially indicate it was charging only to have it shut off in a about 10 seconds. I double checked the battery and it does indicate it is 3.7V, so there must be something else in the device inhibiting charging. On the other hand I had no problem charging a Kindle Fire HD and didn't get any messages about a low powered charging device like I do with some charges/cables. I was also able to charge the Kindle and charge the device at the same time.
I was surprised to see this device has enough bus power to run two different USB external hard drives even without being plugged in itself. I didn't get a chance to fully test this to see what effect it has on overall battery life, but this did allow me to test another application that puts this device over the top for me. One of our vehicles has the much maligned My Ford Touch system and I currently have an external USB drive attached with around 80GB of music. But by plugging this drive into the MobileLite Wireless and the device into the car I was able to see the music. I was also able to see the SDXC card that I had inserted into the MobileLite Wireless which is not natively supported by the vehicle. So with this connected as described, I was able to browse music via the touchscreen in the vehicle and stream movies to a kid in the back seat. This allows me to not have to worry about losing charge on a long trip but it also allows me to access the drive in the car while in my home. While this did seem a little bit finicky, I was able to push new files to the device to update the music or movie library without disconnecting anything. If only it could be set to automatically turn on the wireless when it senses the USB becoming active it would be perfect.